Purple Manchin's Majesty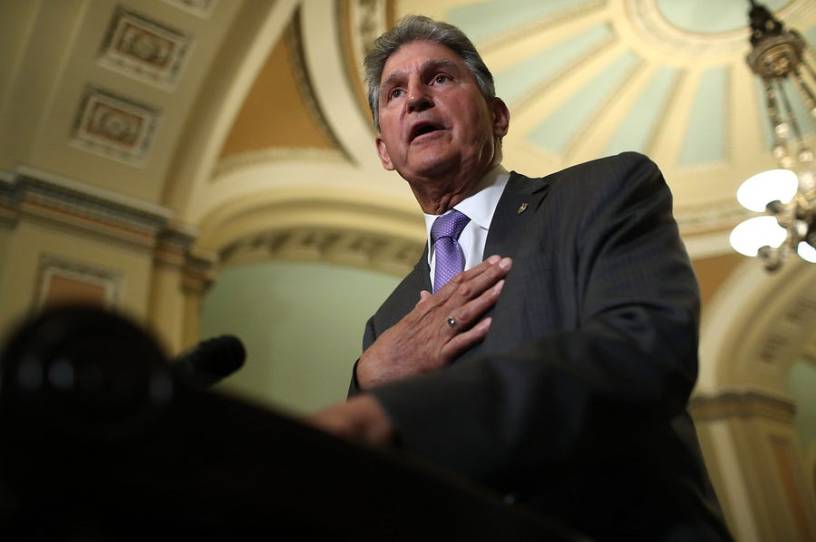 In West Virginia, a person of some notable insight or connection for a local political gang—or at least notable compared to his or her comrades—is called a "one-eye." If you wonder why the sheriff is backing the challenger for the state legislature or why the judge's nephew lost his job with the highway department, the one-eye knows, and may even have pictures. He is the Karl Rove of the creeks, the Jen O'Malley Dillon of the hollers.
The folks using the term in Slab Fork or Salt Rock might not know it, but it goes back more than 500 years to at least Erasmus of Rotterdam who told us, "In the land of the blind, the one-eyed man is king." Which brings us to West Virginia's own Joe Manchin and his fellow Senate Democrats. They're in the dark and he's got the crown.
On Friday, Manchin all but killed President Biden's nomination of Neera Tanden, Hillary Clinton loyalist and partisan knife fighter, to be the director of the Office of Management and Budget. Citing her cruel, contemptuous demeanor on Twitter, Manchin took the head count down to 49 senators in favor, one shy of the tie that Vice President Kamala Harris could break in Tanden's favor. Biden said he's still all in for Tanden, but unless he can find a Republican interested in taking a beating for a candidate who is both widely disliked and without special qualifications, her nomination is done for.
This is an important fight symbolically and practically for Biden. Unlike the Trump administration, Biden plans to restore the OMB to some of its greater glories of the past. Biden has his eyes on a big fiscal deal with Congress after the next round of pandemic stimulus. With the federal debt three times larger than it was a decade ago and $1 trillion deficits lined up like dominoes, he's hardly the only one. The kind of deal Biden is looking for would have to run right through OMB, just like the ones of the 1990s.
Get every newsletter and all of The Dispatch. Support quality, fact-based journalism.
Get Started
ALREADY HAVE AN ACCOUNT? SIGN IN