Ranked Choice Voting Is Working in Alaska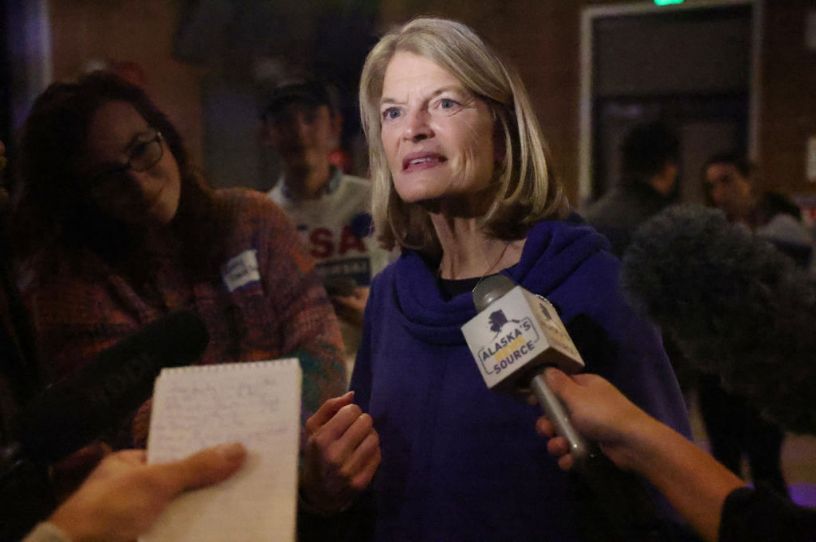 Sen. Lisa Murkowski speaks to supporters on Election Day. (Photo by Spencer Platt/Getty Images)
After weeks of collecting ballots from across the Last Frontier, Alaska is set to send Republican Lisa Murkowski and Democrat Mary Peltola back to Congress. This November marked the first general election using Alaska's "top four" format, and it's already making good on its promise to create a healthier political culture. Candidates on both sides recognized the need to look beyond their base for support, and the winners for federal office succeeded by mobilizing the broadest coalitions.
The new system is a substantial shift from how Alaska previously conducted elections. In place of partisan primaries and a "winner-take-all" general election, candidates from all parties now appear on one primary ballot, with the top four vote-getters advancing to an instant-runoff general election.
These reforms passed narrowly in 2020 via ballot initiative after receiving support from national organizations looking to reduce polarization and create a more functional government. Similar efforts are popping up across the country: A ballot measure passed in Nevada this year (and must pass again in 2024 to take effect), and a bipartisan group of lawmakers in Wisconsin introduced legislation to implement ranked choice voting last year.
Alaska first used its new system in a special election over the summer. Peltola shocked the political world by defeating two famous Republicans: Sarah Palin, the former governor and vice presidential candidate, and Nick Begich, the grandson of a former congressman and nephew of a former senator. Peltola provided the Democrats their first major statewide victory since 2008 and their first for the at-large congressional seat since 1972. She won the special election in part because tens of thousands of Begich supporters were turned off by Palin and abstained from ranking her as their second choice.