Recep Tayipp Erdoğan Notches Another Victory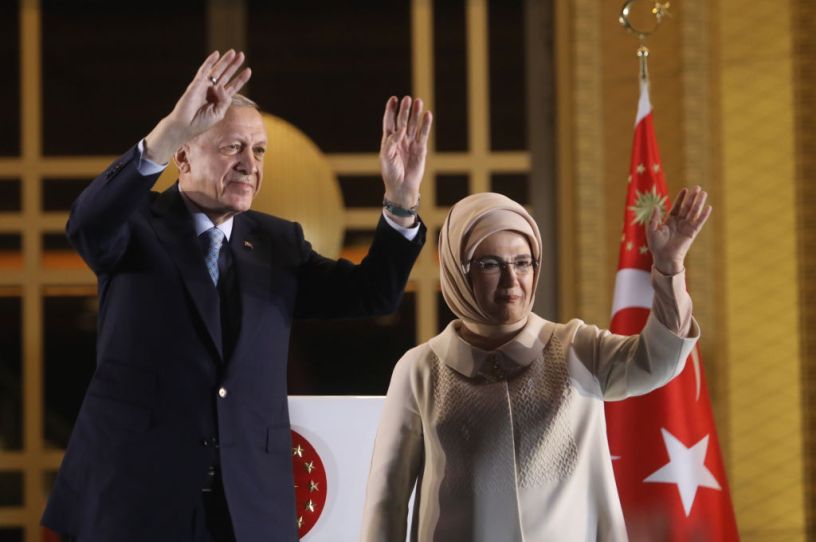 Re-elected President Recep Tayyip Erdoğan takes the stage with His wife Emine in Ankara Sunday. (Photo by Yavuz Ozden / dia Images via Getty Images)
DİYARBAKIR, Turkey—Turkey's Kurds were once regarded as the country's "kingmakers." But even their support for President Recep Tayipp Erdoğan's opponent wasn't enough to keep the incumbent from his third decade in power.
With more than 99 percent of ballots counted Sunday night, Erdoğan came away with some 52 percent to opposition challenger Kemal Kılıçdaroğlu's 48—a narrow but decisive victory in an election that just a few months ago some pollsters thought Erdoğan could lose by 10 points. 
"This outcome, like any other decision made by our people, holds great significance. However, the victory is not ours alone; it is Turkey's triumph," the president said Sunday night, declaring victory from his presidential palace in Ankara. "As you may recall, we have always asserted that when we win, no one in our country will suffer a loss. Likewise, when we succeed, the only losers will be those behind the nefarious plots against our nation, including their accomplices, the terrorist organizations and loan sharks."
Early results indicate Erdoğan's win came in large part thanks to his ability to cement his nationalist bona fides on the campaign trail, attacking his rival for receiving support from Kurdish groups and other perceived enemies of the state. Now the prospect of peace in the conflict between Kurdish separatist groups and Turkish forces that has killed more than 40,000 people in four decades—civilians and combatants alike—is as bleak as ever.