Republican Senators Split on DOJ's Trump Indictment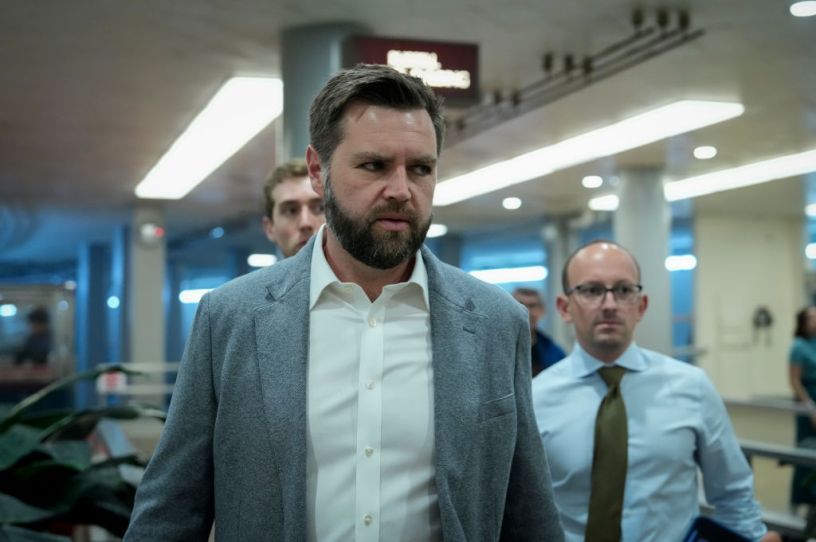 Sen. J.D. Vance at the U.S. Capitol on June 12, 2023. (Photo by Drew Angerer/Getty Images)
GOP Sen. J.D. Vance of Ohio was calm but outraged talking to reporters in the Capitol Monday evening about last week's federal indictment of Donald Trump.
"Are we really trying to throw the president of the United States in jail because he didn't cross enough 'T's' on the way out?" Vance said one day before Trump appeared in a federal court in Miami for his arraignment. Not even the charges the former president obstructed justice and lied to federal agents give the Ohio Republican pause in defending Trump.
"Obstruction of justice is fundamentally: You're obstructing an investigation into an underlying crime. If I think the underlying crime is bogus, then I don't think the obstruction charge is valid either," says Vance, who vowed on Tuesday afternoon to place procedural holds on nearly all Department of Justice nominees "until Merrick Garland stops using his agency to harass Joe Biden's political opponents."
One thing even a Trump loyalist like Vance is willing to admit is that the indictment—outlining 37 counts of willfully retaining national-defense related classified documents in his Palm Beach home after leaving office, obstructing FBI and grand jury investigations regarding those documents, and concealing his continued efforts to retain the documents after a grand jury had subpoenaed them—contains some "serious" accusations. In fact, most Republican senators appear united in this assessment.