Steven Spielberg's Search for America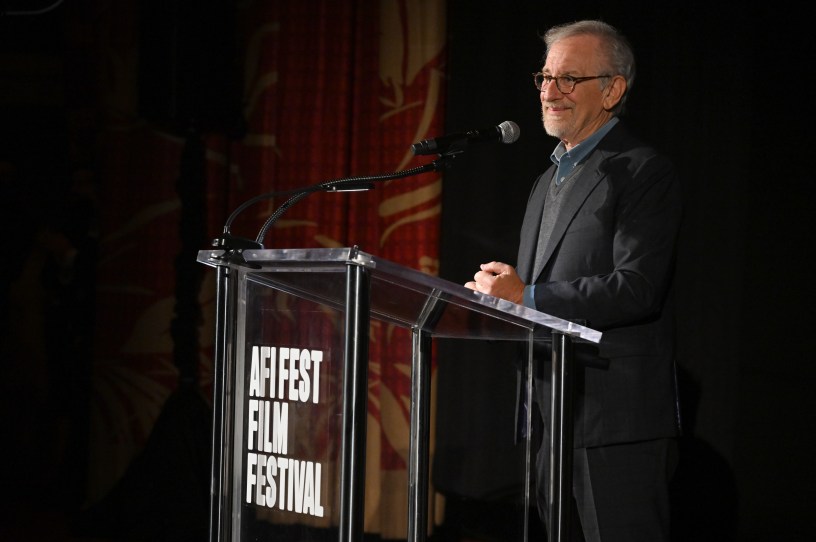 HOLLYWOOD, CALIFORNIA - NOVEMBER 06: Steven Spielberg speaks onstage during AFI Fest 2022: Red Carpet Premiere Of "The Fabelmans" at TCL Chinese Theatre on November 06, 2022 in Hollywood, California. (Photo by Michael Kovac/Getty Images for AFI)
In Hollywood, nobody does it better than Steven Spielberg. As the most acclaimed and prolific film director in history, the three-time Oscar-winner's career has spanned six decades and countless genres. From Hitchcockian thrillers to Saturday matinee serials, war epics to his recent big-budget studio musical, Spielberg's longevity in the ever-evolving Hollywood ecosystem is due in large part to his ability to leapfrog effortlessly between genres.
His complete filmography can be divided into two large periods of creative development and maturation. The first was dominated by his genre-defining blockbusters. While his pictures were consistently the year's highest-grossing, Spielberg's contemporaries were quick to disregard his work as nothing more than cinematic comfort food. For the generations made cynical by Vietnam, Watergate, economic recessions, and political assassinations, many judged his films as little more than escapism. After a decade that produced morally indifferent anti-heroes, Spielberg's early period reminded us that movies could—and should—be fun.
Spielberg's second era was focused on proving his chops as a serious filmmaker. After several forays into dramatic territory, Spielberg released his Oscar-winning masterpiece Schindler's List in 1993. No longer just the kid director who specialized in escapism, he showed he could tell contemplative stories that did not require great white sharks or extra-terrestrials. Such a resounding professional triumph and the subsequent praise from both the public and the industry gave him the freedom to explore more delicate subject matters.
Schindler's List didn't just mark a shift in subject matter. It also marked an evolution in Spielberg's themes too. Since 1993, he has gone from being a master of popular culture to a master historian. His maturation as a filmmaker has brought a civic consciousness and a willingness to explore questions of American memory, identity, race, and democracy.