Ron DeSantis Donors Upbeat About Third-Quarter Fundraising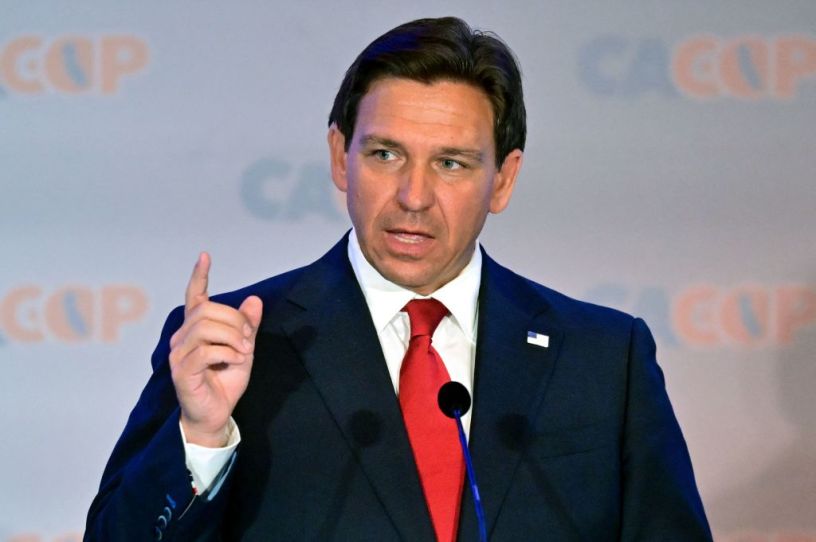 Florida Gov. Ron DeSantis speaks during the California Republican Party fall 2023 convention in Anaheim, California, on September 29, 2023. (Photo by Frederic J. Brown/AFP/Getty Images)
Ron DeSantis raised roughly $10 million to $15 million in the third quarter, with Never Back Down, the super PAC supporting the Florida governor, collecting an additional $10 million to $20 million, Republican donors backing his presidential bid tell The Dispatch.
Reports for the three-month fundraising period that ended Saturday are not due to be filed with the Federal Election Commission until October 15. But wealthy Republican donors intimately involved in the DeSantis fundraising operation and familiar with approximate third-quarter tallies for the campaign and super PAC say the money raised obliterates a persistent narrative that the governor's GOP financiers are jumping ship and that his 2024 effort is poised to run out of cash.
"I'm very pleased with our progress," says Jay Zeidman, a businessman raising money for the DeSantis campaign and Never Back Down. "We have real momentum with our fundraising, especially in my home state of Texas. But there's always more to be raised to ensure the campaign has the resources it needs to win these early states." Zeidman notes that DeSantis raised more than $1 million during a September fundraising swing through the Lone Star State, including $300,000 in Houston.
That said, Donald Trump is still dominating the Republican primary, and DeSantis is laboring to become the consensus alternative to the former president and transform the crowded contest into a two-person affair. The governor entered the race in late May polling a strong second place both nationally and in surveys of the key early states, but his support has plummeted since. DeSantis is now running a distant second nationally and in Iowa; and he is polling third in New Hampshire and South Carolina, behind Nikki Haley, the former South Carolina governor.
You're out of free articles
Create an account to unlock 1 more articles