Silicon Valley Bank's New Ownership, Explained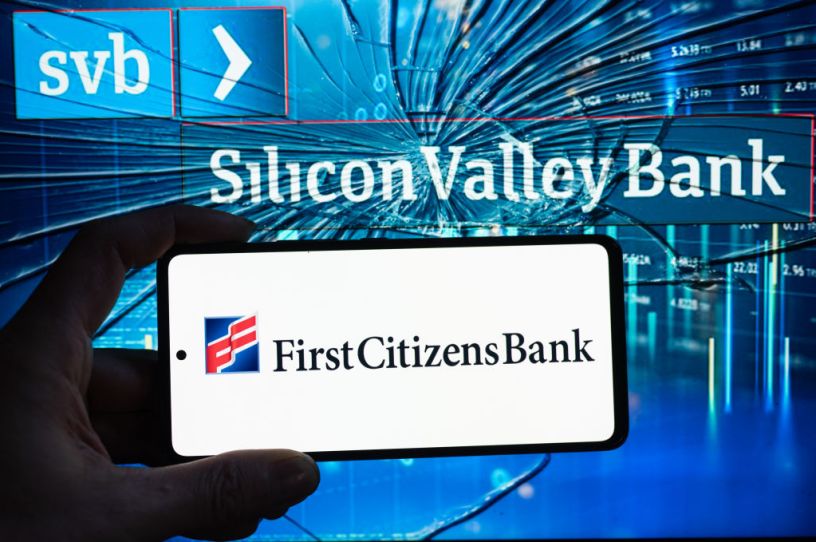 (Photo Illustration by Jonathan Raa/NurPhoto via Getty Images)
Federal regulators began looking for a new owner for Silicon Valley Bank shortly before the run that shut it down and prompted the government to take over. Now they've found one: North Carolina-based First Citizens.
First Citizens announced Monday it agreed to purchase $56 billion worth of deposits previously owned by SVB. (SVB had $175 billion in deposits before its failure.) That'll push First Citizens deposits to $145 billion, making it one of the 20 largest banks in the U.S. with slightly more in assets than what SVB had before its failure. It also purchased $72 billion worth of loans—for only $55 billion.
But First Citizens did not assume ownership of SVB's $90 billion in securities, which includes most of the low-yielding U.S. Treasury bonds that got SVB into trouble when the cash-strapped bank was forced to sell them at a loss. The Federal Deposit Insurance Corporation (FDIC) will maintain control over the $90 billion in securities.
From the perspective of SVB's worried depositors, the purchase means little: Those who remained with SVB will become First Citizens customers, though the Federal Reserve already promised that all depositors would be made whole after SVB's crash.That included even customers with deposits more than the $250,000 FDIC insured amount. While in the past, the government has bailed out entire banks, effectively ensuring all depositors were made whole, reimbursing depositors above the insured amount is unusual.
You're out of free articles
Create an account to unlock 1 more articles