Stop the Stealers (Mostly) Concede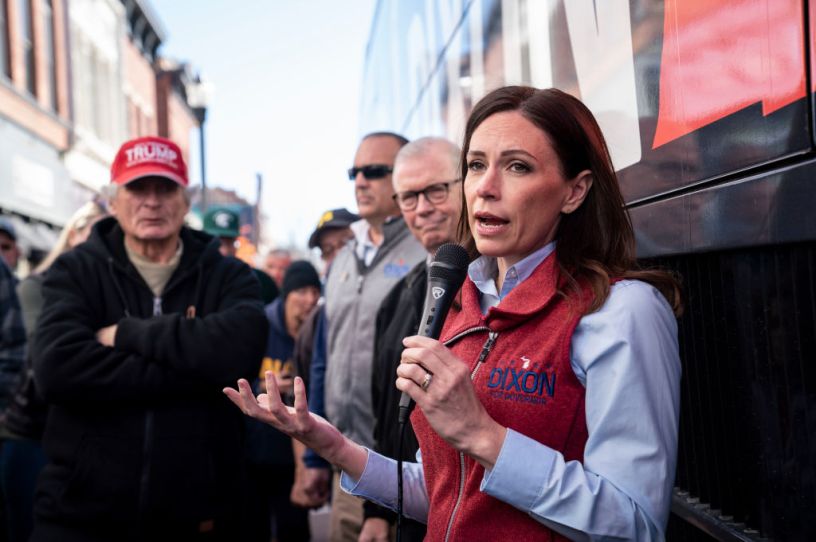 Michigan Republican gubernatorial candidate Tudor Dixon speaks to supporters and volunteers on November 7. (Photo by Sarah Rice/Getty Images)
Whether or not a candidate concedes has no legal bearing on the ultimate outcome of a race: Elections come to a close after the results are canvassed and certified. But so far, more losing candidates who had espoused "Stop the Steal" rhetoric akin to that of former President Donald Trump have actually conceded than some analysts had predicted.
At a media briefing just before last week's election, when asked if election officials anticipated trouble with candidates refusing to concede, Michigan Secretary of State Jocelyn Benson answered flatly: "Yes."
"Unfortunately, this is the moment that we're in," Benson, a Democrat, added. "We're hoping for smoothness and acceptance of the law and facts but you know, candidates don't get to declare who wins and loses elections anyway. So we will just simply ensure that the voters' will is respected whatever that may be."
Once the results of the Michigan gubernatorial contest became clear Tuesday night, GOP candidate Tudor Dixon initially claimed the race wasn't over. But by Wednesday, Dixon's campaign sent out a statement noting that the candidate "called Governor [Gretchen Whitmer] this morning to concede and wish her well." Ditto with GOP candidate Matthew DePerno in the Michigan attorney general race.