Texas' Rio Grande Buoy Barrier Battle, Explained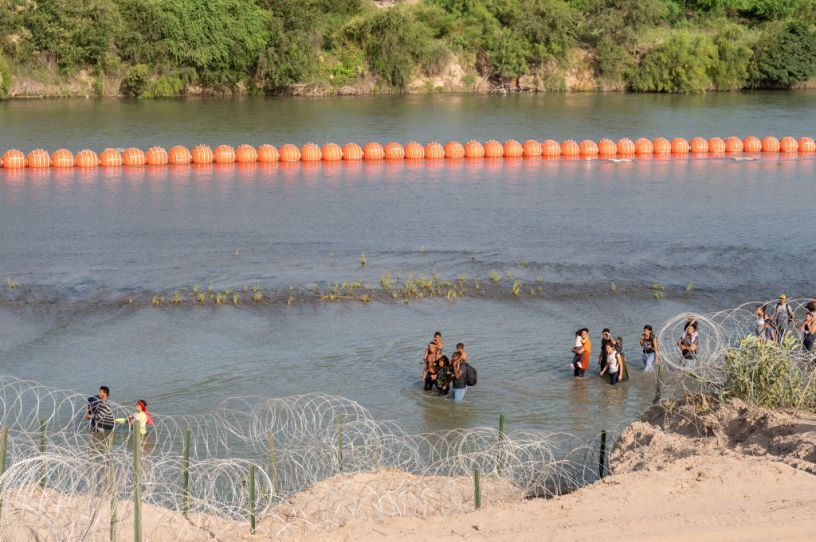 Migrants walk by a string of buoys placed on the water along the Rio Grande on July 16, 2023. (Photo by SUZANNE CORDEIRO / AFP) (Photo by SUZANNE CORDEIRO/AFP via Getty Images)
A federal judge could decide soon whether to allow Texas Gov. Greg Abbott to continue using a 1,000-foot buoy barrier in the Rio Grande to keep illegal immigrants out of Texas. What may go unanswered for now is how far states can go in crafting their own immigration policies.
The Department of Justice (DOJ) asked Senior U.S. District Judge David A. Ezra in a July 26 filing to order Abbott to remove the barrier. The government argues the barrier runs afoul of federal environmental laws, presents humanitarian concerns, and prompted Mexico's government to lodge protests "at the highest diplomatic levels." After a dead body was found caught in the buoys earlier this month, Mexico's Foreign Ministry slammed the buoys as a "violation of our sovereignty" in a statement.
Abbott shot down the administration's request to remove the barrier and seemed eager for a courtroom confrontation, taking to social media after the lawsuit to retort: "Mr. President, Texas will see you in court." He has argued that the Constitution gives Texas the "sovereign authority to protect its borders because the President refuses to enforce federal immigration laws."
What is the DOJ's argument for stepping in?