The Bad Math Behind Economic Doomerism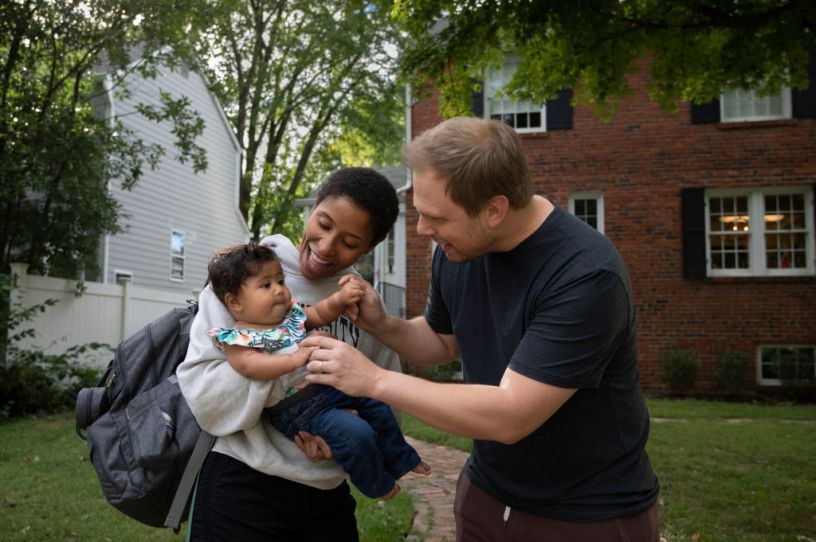 Miguella Marcarew and John Fluharty hold their daughter, Zana Fluharty, outside of their home in the Huntington Terrace neighborhood on September 24, 2022, in Bethesda, Maryland. (Photo by Maansi Srivastava/Washington Post/Getty Images)
It's a big week for American Compass, a think tank founded in 2020 that fancies itself as the "pre-eminent alternative to the Old Right's market fundamentalism." On the heels of its new policy book, Rebuilding American Capitalism, it hosts an event on Capitol Hill today with multiple Republican senators. It's the latest sign of the intellectual confusion afflicting the right today.
American Compass is a grantee of the Omidyar Network, started by Ebay founder Pierre Omidyar and his wife, Pam. The network's website states that "the current form of capitalism is fundamentally broken" and Omidyar seeks "to shape a new, inclusive economy." It has been a leader, with the William & Flora Hewlett Foundation—an even bigger American Compass donor—in bringing foundations together to "advance goals that include a bigger federal government, higher taxes on business and the wealthy, and an active regulatory state that reins in corporate influence." That's one alternative to the straw man of market fundamentalism.
More than any other organization, American Compass has blurred the lines between conservatism and progressivism by trotting out the same factually incorrect doomerism the left has relied on for decades. Three paragraphs into the new book, American Compass founder Oren Cass writes:
The economic system's malfunction has dire human consequences. Whereas 40 weeks of the typical male worker's income in 1985 could provide the middle-class essentials for a family of four, by 2022 he needed 62 weeks of income—a problem, there being only 52 weeks in a year.
You're out of free articles
Create an account to unlock 1 more articles