The Biden Administration's New Border Plan, Explained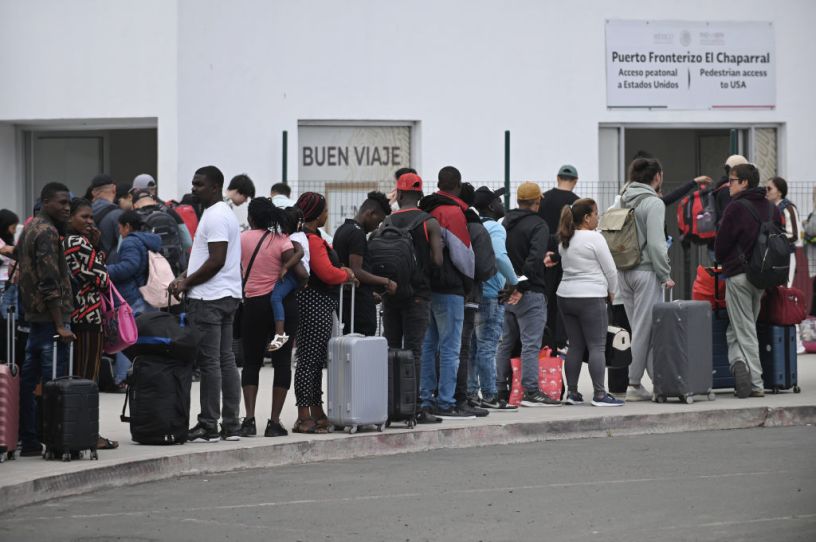 Migrants are allowed to enter the United States at the Chaparral pedestrian border on May 16, 2023, in Tijuana, Mexico. (Photo by Carlos A. Moreno/Anadolu Agency via Getty Images)
On the heels of the expiration of Title 42, the Biden administration has released its most comprehensive plans yet on how to manage the influx of migration at the U.S.-Mexico border: a multi-pronged approach to process more immigrant and refugee applications south of the U.S. border.
It relies on both carrots and sticks. One of the carrots—designed to incentivize people to not make the dangerous trek over land to the north but rather to apply for refuge closer to the place they are fleeing—is a commitment to establish regional processing centers in Latin America.
But the administration also resurrected a big and controversial stick: vowing to turn back migrants who reach the U.S.-Mexico border if they fail to seek asylum in a country they are transiting through or use other legal options to seek entry into the United States. Under the Trump administration, that policy was called the "transit ban."
The success of Biden's strategies—both in creating safer pathways for migrants and in deterring them from coming to the border at all—will depend on the United States' partnership with certain Latin American countries.
Get every newsletter and all of The Dispatch. Support quality, fact-based journalism.
Get Started
ALREADY HAVE AN ACCOUNT? SIGN IN