The End of the Writers' Strike, Explained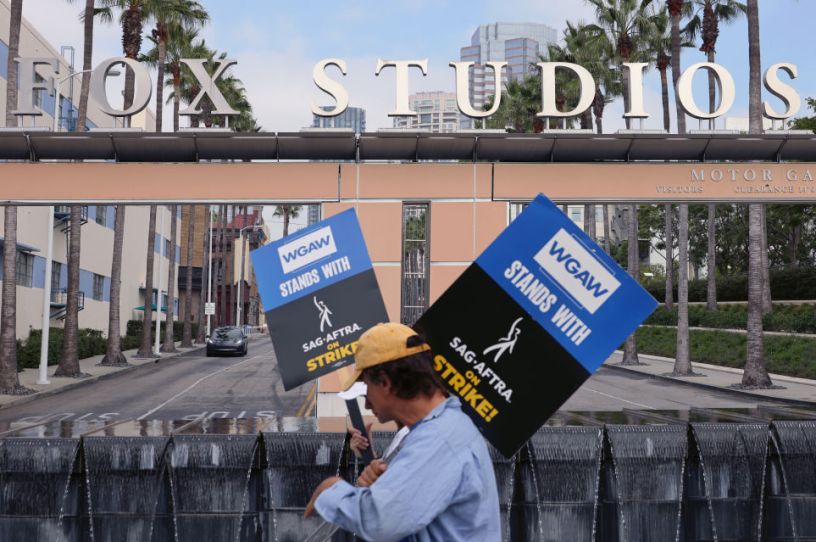 Protesters join the picket line outside Fox Studios on September 28, 2023, in Los Angeles, California. (Photo by David Livingston/Getty Images)
The Writer's Guild of America (WGA) and the Alliance of Motion Picture and Television Producers (AMPTP) have finally agreed to terms that will end the five-month strike that has ground Hollywood productions to a halt.
The WGA began a nearly 150-day strike on May 2 over issues with streaming compensation and fears over how artificial intelligence (AI) will affect writers' jobs. The Screen Actors Guild (SAG-AFTRA) followed course in July. But on Tuesday, the WGA announced that its negotiating committee was in unanimous agreement about the proposed deal and suspended the strike as of early Wednesday morning.
With the strike officially over, 11,500 writers guild members will be permitted to return to work as of Wednesday. According to the WGA, the agreement's victories include: a 5 percent minimum pay increase with additional increases in the next two years; stricter rules against AI usage; new residuals agreements tied to viewership with greater transparency; and improved contributions for benefits—a notable improvement for filmmakers who largely hop from gig-to-gig.
Meanwhile, SAG-AFTRA remains on strike, with the actors guild yet to announce future meetings with AMPTP. As 160,000 members continue picketing, though, talks could resume as early as next week, Deadline reported.
You're out of free articles
Create an account to unlock 1 more articles