The House GOP's Hunter Biden Investigation, Explained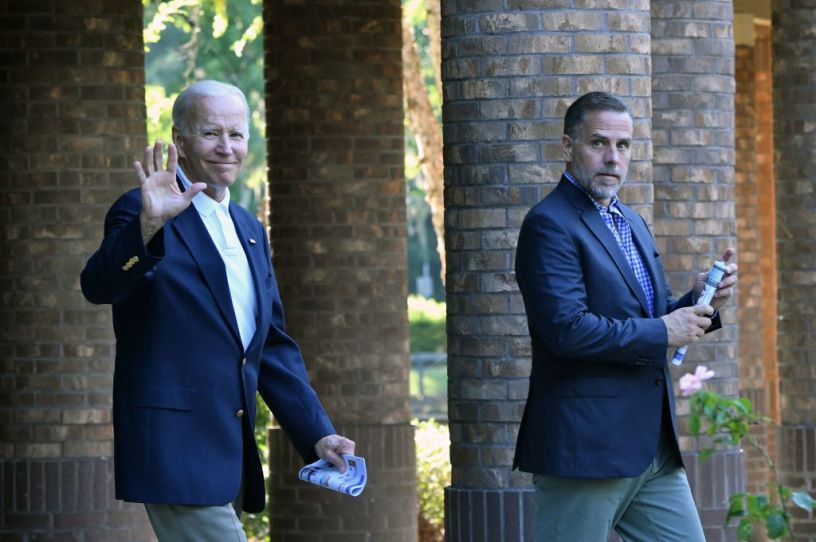 President Joe Biden waves alongside his son Hunter Biden in August 2022. (Photo by NICHOLAS KAMM/AFP via Getty Images)
House Republicans are taking advantage of their new majority and oversight authority to launch another probe into the business dealings of the Biden family.
The House Oversight Committee, helmed by Rep. James Comer, is investigating whether Biden family members and others leveraged President Joe Biden's positions to make profitable business deals with foreign entities—particularly Chinese companies—and whether Biden himself was ever compromised in the process. One of the investigation's main targets is the president's scandal-ridden son, Hunter, who was already the subject of a similar 2020 investigation led by Senate Republicans. A key question this time is whether Hunter Biden's overseas business dealings presented national security risks.
It's still too early to know whether the investigation will unearth criminal activity, but a House Oversight Committee aide told The Dispatch that lawmakers believe that even if not technically illegal, the actions of Hunter Biden or others could be "what appears to be a matter of corruption through influence peddling." The committee will also consider whether to advance a bill to require more financial disclosures by members of the first family or vice president's family, even if those family members don't run for or hold public office.
What did the 2020 investigation find?