The Mirage of Middle East Peace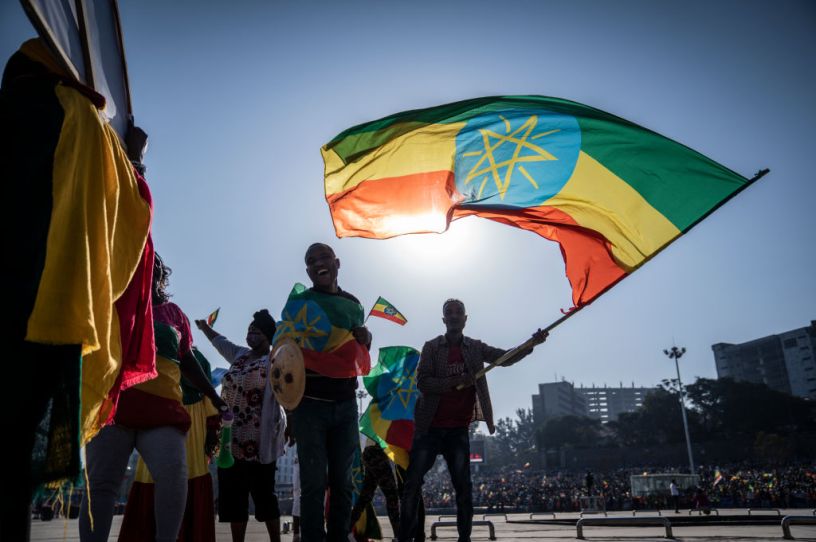 People shout slogans as a ceremony is held to support the Ethiopian military troops who are battling against the Tigrays People Liberation Front on November 7, 2021, in Addis Ababa, Ethiopia. (Photo by Getty Images/Getty Images)
If Robert Kaplan's The Loom of Time: Between Empire and Anarchy, from the Mediterranean to China had not been released earlier this year, one could imagine him scrambling to rewrite the introduction of his wide-ranging treatise on political order in the Middle East in light of recent events. After all, the merciless Hamas terrorists responsible for the attacks in Israel had once been the unexpected beneficiaries of elections that U.S. officials had hoped would produce a moderate Palestinian government. Yet following their victory in the 2006 Palestinian legislative polls, Hamas promptly executed political rivals, extended an iron grip over the Gaza Strip, and began building the terrorist command-and-control capabilities gruesomely displayed on October 7. The 2006 elections were Gaza's last.
Kaplan—a longtime foreign affairs reporter for The Atlantic and a researcher at the Foreign Policy Research Institute—argues in his latest book that stability in the Middle East is elusive. Chaos, in his view, always lurks beneath the surface, and elections fail to produce peace in a region with such acute fault lines. The past few weeks sadly seem to bolster his pessimistic claims.
Kaplan has made some essential contributions in his time—his work recentering the primacy of geography in international relations stands out—as well as a few alarmist dispatches that don't hold up as well. This latest book seems principally concerned with atoning for Kaplan's initial support for the Iraq War, which he now considers his greatest failure as a writer. If Kaplan's self-professed hatred for Saddam Hussein's totalitarianism blinded him to the risks of an intervention in 2003, The Loom of Time warns against similar involvement in the Middle East.
Kaplan's latest work is a characteristically informative and enjoyable mix of travelog, history, and geopolitical analysis. It's refreshingly provocative in some important regards, but also repetitive and simplistic in places. Yet few authors are in the position to write such a book as Kaplan, one that blends decades of first-person reporting in the region with a broad familiarity with Middle Eastern history and societies. 
You're out of free articles
Create an account to unlock 1 more articles