The New School Closures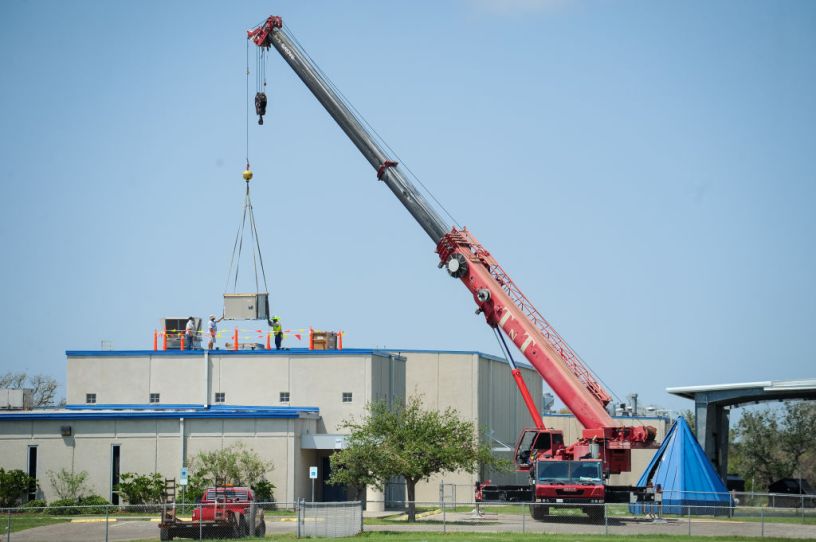 Work crews lift a new AC unit onto the roof of Charlie Marshall Elementary School in Port Aransas, Texas, on September 14, 2017. (Photo by Mark Sobhani / for The Washington Post via Getty Images)
Just weeks into the school year, hundreds of schools in Colorado, Illinois, Indiana, Michigan, Missouri, Ohio, Pennsylvania, Texas, and elsewhere closed up shop or moved to remote learning. This time the culprit isn't a resurgence of COVID-19; it's record-high temperatures and struggling (or non-existent) HVAC systems.
Now many are asking: After Congress passed the COVID-related relief bills by March 2021—the Cares Act, the Coronavirus Response and Relief Supplemental Appropriations (CRRSSA) Act, and the American Rescue Plan, totaling $189.5 billion—why haven't more schools updated their HVAC systems when ventilation was a primary concern during the pandemic.
It's complicated, say some education analysts. "These school districts aren't spending it foolishly, but it was a lot of money chasing a problem after the fact with loose requirements, and so you're going to get a big mixed grab bag of what it was spent for," Nat Malkus, deputy director of education policy at the American Enterprise Institute, tells The Dispatch.
Aging school HVAC systems predate the pandemic.