The Perks of Being a Politician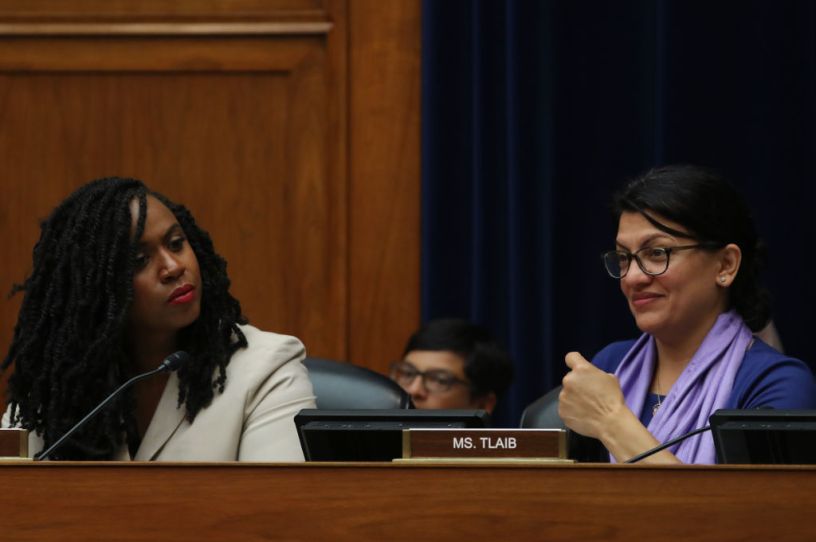 Rep. Ayanna Pressley and Rep. Rashida Tlaib attend a House Economic and Consumer Policy Subcommittee on July 25, 2019 in Washington. (Photo by Mark Wilson/Getty Images)
Daily Beast columnist Matt Lewis stumbled upon a Facebook post a few years ago. Millionaires, it claimed, make up 1 percent of the U.S. population, but a staggering 50 percent of U.S. congressional representatives. Facebook being Facebook, the 1 percent figure was incorrect—it's closer to 6 to 8 percent—but more than half of America's congressmen are in fact millionaires. This raised a two-part question: Why do the rich get elected, and why do the elected get rich?
Lewis (who I have known for some time and consider a mentor) offers answers in his new book, Filthy Rich Politicians: The Swamp Creatures, Latte Liberals, and Ruling-Class Elites Cashing in on America. But he has more fundamental concerns in mind. The book shows how money, and the opportunity to get more of it, erodes trust between elected officials and those they're meant to serve.
Lewis doesn't think the wealth of elected officials is itself unreasonable or unexplainable. Success in the private sector often translates into trust in one's ability to craft public policy, and those with means are well-equipped to take the financial risk of running for office. In his characteristically witty prose, Lewis stresses that he harbors no animosity toward the wealthy. ("I'm not a Communist. I'm a golfer," he writes, cleverly aping Russell Kirk.)
Of course, the gap between representative and constituent wealth can set off waves of populist furor. "The richest among us," Lewis grants, "should want to mitigate the chances of a mob showing up at their front door with pitchforks and flaming torches." But that also isn't the big problem.