The War Room's Speaker Victory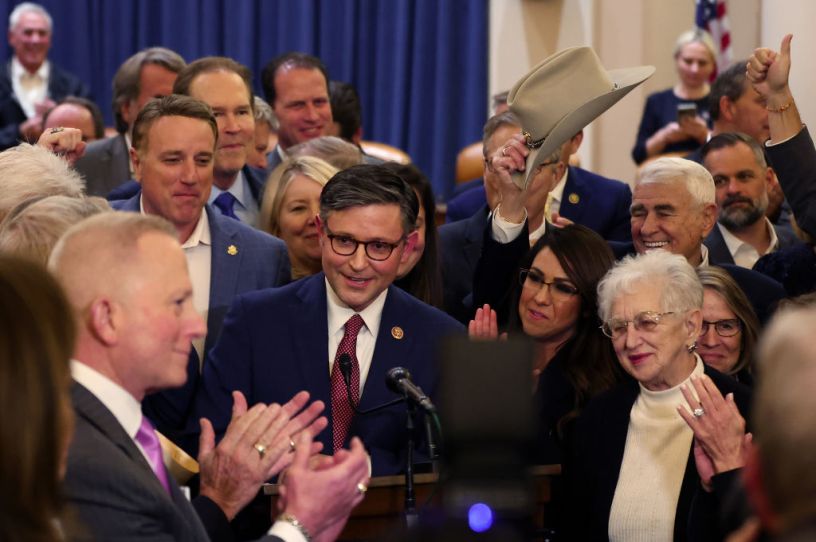 Rep. Mike Johnson speaks alongside fellow House Republicans after he was elected as the Republican Speaker nominee during a conference meeting on October 24, 2023. (Photo by Justin Sullivan/Getty Images)
Rep. Mike Johnson's election as speaker of the House Wednesday was a rare feat for the Make America Great Again movement: a clear victory. After weeks of mayhem that made House Republicans look ungovernable, the loose collection of populists aligned with and empowered by Donald Trump appeared to have settled for a win that reaffirms the GOP's metamorphosis.
Johnson's ascension comes after the MAGA movement successfully removed the previous Republican speaker, Rep. Kevin McCarthy. It follows the organized efforts to stop two of the party's three nominees to succeed McCarthy, Reps. Steve Scalise and Tom Emmer. All three were deemed too spoiled by Washington, too willing to cut spending deals with Democrats. (In reality, with such a narrow Republican majority and Democratic control of both the Senate and White House, compromising with Democrats is part of this speaker's job description.) And the other failed speaker nominee, the hard-charging, MAGA-friendly Rep. Jim Jordan, was stopped by a rump of institutionalist Republicans who appear to have only delayed the inevitable: a speaker who reflects the conference's conservative populism and fealty to Trump, but who also seems ready to govern.
Johnson, now in his fourth term in the House, apparently fits the bill. He is known internally for promoting conservative policies on abortion and same-sex marriage, yet is regarded highly even by his more socially moderate colleagues as a trustworthy person. His most notable act before becoming speaker was as the architect of an amicus brief in January 2021 supporting a Texas lawsuit to throw out the 2020 presidential election results in four states won by Joe Biden—a last-ditch effort to block the counting of the electoral votes. The work earned him plenty of MAGA credibility, and while he is friendly with the populist, pro-Trump House Freedom Caucus, he isn't a member. Instead, Johnson gravitated toward the wonkier Republican Study Committee, chairing the conservative caucus from 2019 to 2021.
Johnson now faces the headwinds similar to those McCarthy faced, with divided government and a looming spending deadline on November 17. But for the moment, the power players of the MAGA movement are ecstatic about what they have achieved in the fight for leadership of the Republican party.
You're out of free articles
Create an account to unlock 1 more articles