This Veterans Day, Strike Up a Conversation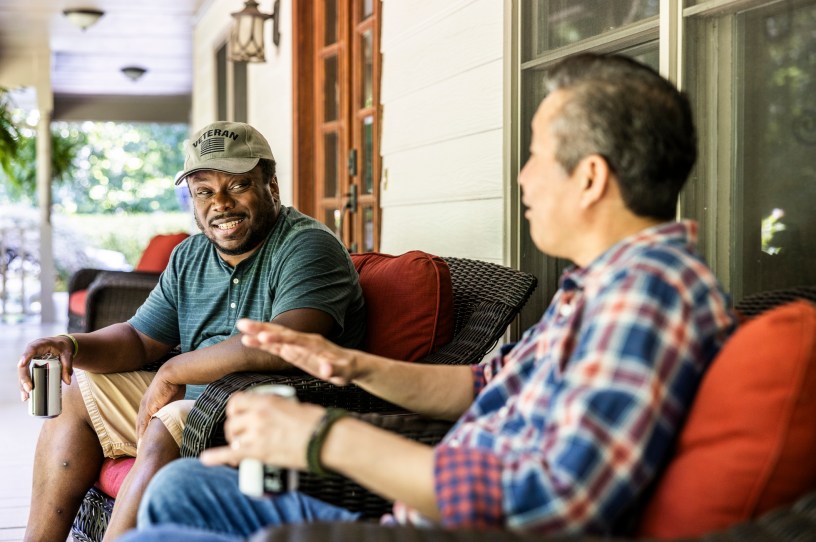 (Picture via Getty Images.)
Veterans Day uncovers a paradox in America's relationship with former servicemen and women. According to research from More in Common, where I work, fielded in 2022, 81 percent of Americans feel it is important that non-veterans engage with veterans, yet roughly half the country rarely, if ever, talks with them. The shrinking size of the veteran population and the fact that fewer Americans have personal relationships with veterans explains part of this disconnect.
But another explanation is at play: Many Americans don't know how to talk with veterans. In our survey, one in five of those who had never talked with a veteran said they were not sure what to say. A similar number said they were concerned they might bring back uncomfortable memories.
As a veteran, part of me struggles whenever I see surveys like these—we are all American citizens and our military serves, and is subordinate to, the civilian society. So how can it be hard to start a conversation? Yet I appreciate that the dynamic is more complex. Should Americans say, "Thank you for your service" for example? A quick search online finds serious and well-intentioned articles recommending both yes and no.
Part of the challenge is that the most prominent depictions of veterans often illustrate barriers to dialogue. Consider a scene from the movie The Hurt Locker—which depicts a fictional American explosive ordnance disposal unit in Iraq and won six Oscars in 2010—following the main character's return home from deployment. He stands in the middle of a grocery store aisle and stares at rows and rows of cereal, lost in the contrast between the life and death experiences of war and the seeming monotony of normal life. The scene captures something real and important, but if most Americans have this in mind when they think about talking with a veteran, it's easy to see why many would feel intimidated or anxious.
You're out of free articles
Create an account to unlock 1 more articles