Ukraine's Battle for Capitol Hill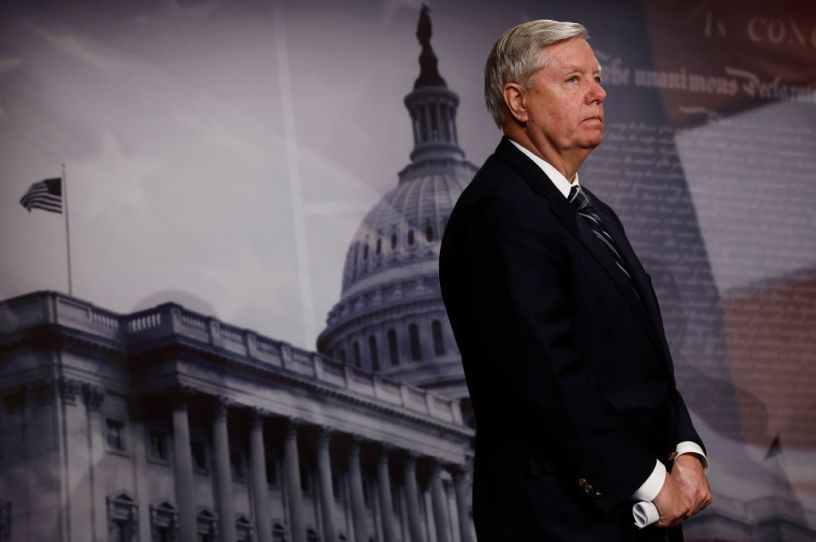 Sen. Lindsey Graham at the U.S. Capitol in February 2023. (Photo by Chip Somodevilla/Getty Images)
In the coming months Ukrainian forces will try to expel Russians from the roughly 20 percent of Ukraine they currently occupy. While no one knows whether the counteroffensive will prove successful, many American lawmakers want to continue assisting the Ukrainians as long as they're willing to fight.
Yet pro-Ukraine Republicans worry that battlefield setbacks could boost the increasingly vocal minority of GOP lawmakers who have called for an end to assistance for the embattled nation. And they believe that the absence of a clear political strategy from an overly cautious Biden administration could undermine Kyiv at a critical moment.
Ukrainian forces began their push into parts of the country's occupied southeast last week, making gains in the Donetsk and Zaporizhzhia oblasts. Ukrainian Deputy Defense Minister Hanna Maliar claimed Monday that the troops had reclaimed seven towns and villages, but the liberating forces face a grueling fight ahead: Entrenched Russian forces are taking advantage of Ukraine's scant air defenses to devastate exposed units. 
"It is quite important that the counteroffensive show some progress," says Mark Cancian, senior adviser with the Center for Strategic and International Studies' International Security program. "It doesn't have to produce victory—and nobody really expects it to produce a final victory—but to show substantial progress for a U.S. audience and a foreign audience."