Untangling Jen Psaki's Statements About Support for Late-Term Abortion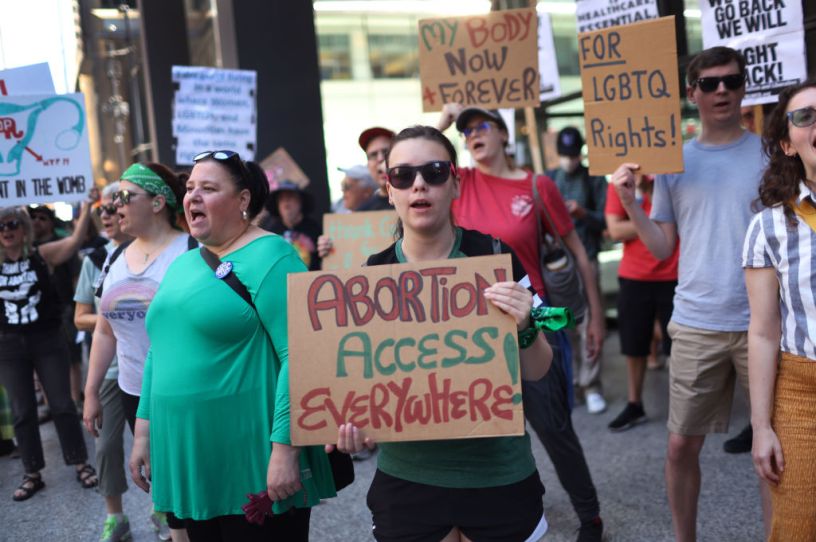 Abortion-rights activists counter-demonstrate as pro-life demonstrators gather for a rally in Federal Building Plaza on June 24, 2023. (Photo by Scott Olson/Getty Images)
During last week's Republican primary debate in Milwaukee, a number of candidates made statements regarding Democrats' supposed support for abortion until birth. "We [Republicans] are better than what the Democrats are selling," Florida Gov. Ron DeSantis said. "We are not going to allow abortion all the way up till birth, and we will hold them accountable for their extremism." Sen. Tim Scott of South Carolina echoed the sentiment, saying, "We [Republicans] cannot let states like California, New York, and Illinois have abortions on demand up until the day of birth."
The comments irked former White House press secretary Jen Psaki—now a host on MSNBC—leading her to tweet that, "No one supports abortion up until birth."
Psaki doubled down on her statement four days later in a segment during her MSNBC show Inside with Jen Psaki, with a chyron reading "Fact Checking GOP Claims About Late-Term Abortion."
To Psaki, Republicans' claim that Democrats support abortion until the moment of birth is "entirely misleading."
"Abortions past the point of fetal viability do not happen often," she said. "They are incredibly rare, and those that do happen involve agonizing emotional and ethical decisions." According to the Centers for Disease Control and Prevention (CDC) statistics cited by Psaki, only 0.9 percent of the 620,327 abortions performed nationwide in 2020 occurred after 21 weeks of gestation, with 80.9 percent occurring before nine weeks and 93.1 percent before 13 weeks, making late-stage abortions rare across the country. Fetal viability is generally considered to be around 23 weeks of gestation, a point at which infants actively treated by medical professionals have an approximately 55.8 percent survival rate, according to a 2022 study published in the Journal of the American Medical Association.
Though Psaki is correct that late-term abortions are very rare, those same CDC statistics she cited still report approximately 5,500 abortions occurring after 21 weeks in 2020. Data regarding the rationale for these late-term abortions is scarce, but many take place because of either physical health concerns for the mother or the discovery of significant fetal abnormalities that limit the long-term viability or quality of life of the child. Many, but not all: Colorado late-term abortion specialist Warren Hern, whom Psaki references in her own segment, told The Atlantic in May that at least half of the women who come to his clinic do not end their pregnancies on these grounds, offering various elective reasons instead.
While Hern likely conducts a higher proportion of elective, late-term abortions than most providers because of his clinic's unique specialty, late-term procedures for purposes other than the physical health of the mother or fetus do take place in states with little to no abortion restrictions—even if such procedures are relatively rare. There are currently six U.S. states—plus Washington, D.C.—with no gestational limits on abortion.
Psaki may be correct that most Democrats do not "root" for late-term abortions—42 percent of Democrats surveyed in an April 2023 Marist poll expressed support for abortion restrictions after the first trimester—but a number of prominent Democratic lawmakers have failed to vocalize specific restrictions on abortion that they would support. Asked in May 2022 whether he believed there should be any limitations on the procedure—including on the day of birth—New York City Mayor Eric Adams said, "No, I do not."
A significant percentage of elected Democrats actively support legislation that legally permits abortion until the time of birth as well. Notably, in September 2021, the House of Representatives voted 218-210—almost entirely along party lines—to pass the Women's Health Protection Act of 2021 (WHPA), a piece of legislation intended to codify and expand the abortion rights previously established by the Supreme Court's decisions in Roe v. Wade and Planned Parenthood v. Casey. The legislation—which garnered 49 Democratic votes in the Senate—failed to advance, but had it become law, it would have prohibited states from enacting any abortion restrictions prior to fetal viability, and barred many such restrictions after viability as well. Importantly, the legislation included a prohibition on laws restricting post-viability abortions in cases where a health care provider judged the continuation of a pregnancy to pose a risk to the patient.
Though the text of the WHPA only allows for post-viability abortions in instances where the continuation of the pregnancy poses a "risk to the pregnant patient's life or health" in the "good-faith medical judgment of the treating health care provider," it does not clearly specify what kinds of health care providers can make that decision and what constitutes a risk to the mother's life or health. Even if it had, the legislation—which references no specific cutoff or threshold after which abortions are prohibited—plainly would have allowed for abortions "up until birth," at least in certain instances.
Psaki's claim, therefore, that "nobody supports abortion up until birth" is misleading and dependent on a very narrow interpretation of what constitutes 'support' for a policy. Psaki argues that, because late-term abortions are rare and most Democrats do not vociferously support them, Republican claims that Democrats support abortion up until birth are unfair. However, while late-term elective abortions are indeed rare, and polling shows a large segment of rank-and-file Democrats favor restrictions on post-viability abortions, elected Democrats have consistently voted in favor of legislation that permits late-term abortions in certain circumstances.