Washington Braces for a Broader War in the Middle East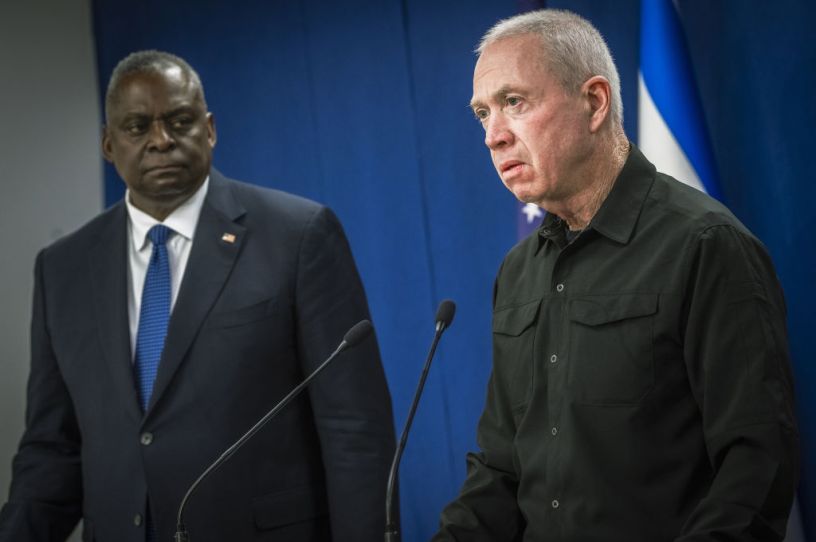 U.S. Defense Secretary Lloyd Austin and Israeli Defense Minister Yoav Gallant speak during a press conference after their bilateral meeting in Tel Aviv, Israel, on October 13, 2023. (Photo by (DoD) Chad J. McNeeley / Handout/Anadolu via Getty Images)
As Hamas rockets continue to pour into Israel on a daily basis, American troops are coming under fire from other Iranian-backed armed groups elsewhere in the Middle East. Over the course of a single week, militias targeted U.S. forces in Syria and Iraq in more than a dozen separate attacks.
The timing is no coincidence. As Israel makes the final preparations for a ground offensive in Gaza and the U.S. bolsters its military presence in the region, Iran and its proxies are keeping the threat of a broader regional conflict alive by targeting Americans. It's a tactic that could lead to deadly escalation.
Where have American troops come under fire?
Israel's mobilization of troops and military equipment to the perimeter of northern Gaza last week coincided with a number of strikes against U.S. military personnel in Syria and Iraq, as Iranian-backed groups essentially sought to veto America's support for Israel's looming offensive with force. The militants' opening salvo came last Thursday, with three drone barrages targeting U.S. air bases in Syria and Iraq. By Tuesday, according to U.S. defense officials, 13 drone or rocket attacks had targeted American troops in the two Middle Eastern countries.
You're out of free articles
Create an account to unlock 1 more articles