'White House Plumbers' Needs to be Fixed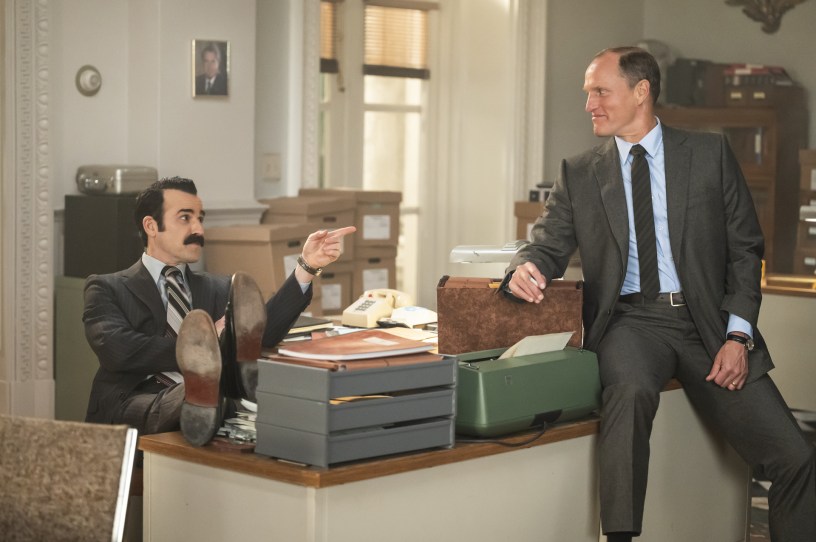 Woody Harrelson and Justin Theroux in 'White House Plumbers' (Photo via IMDb)
There is little question that the Watergate scandal that provides the plot White House Plumbers is kind of funny (it took four bungled attempts to actually get into the office!). And the saga represents one of the most dramatic moments in modern political history (a president resigned in shame!). It is baffling, then, that the team behind the HBO miniseries proves unable to capture either aspect of the story. They tried to make another Veep, and they tried to make another Impeachment: American Crime Story, and wound up with neither. The result is a hodgepodge of poorly written humor incongruous with the grounded world the show inhabits.
The plot requires no background—or ought not to. Woody Harrelson and Justin Theroux star as E. Howard Hunt and G. Gordon Liddy, respectively. The characters are minor historical figures, though their portrayal has more in common with The Office's Michael Scott than their real life counterparts. They're dumb. Unrealistically so. It's meant to be funny and cringey, but ends up being tiresome and jarring considering the story that's being told. (For example: An extended scene in which Hunt and his wife have dinner at Liddy's house and repeatedly ask for a loud recording of Hitler speeches to be turned down, but, of course, can't be heard over the speech.) It takes a lot to make Woody Harrelson unfunny, but White House Plumbers succeeds. We spend too little time with any other characters to get much of a sense of them, though Lena Headey and Domhnall Gleeson manage to rise above a script that doesn't give them much with which to work.
Get every newsletter and all of The Dispatch. Support quality, fact-based journalism.
Get Started
ALREADY HAVE AN ACCOUNT? SIGN IN