Why Aren't the Republican Candidates Running Against Trump?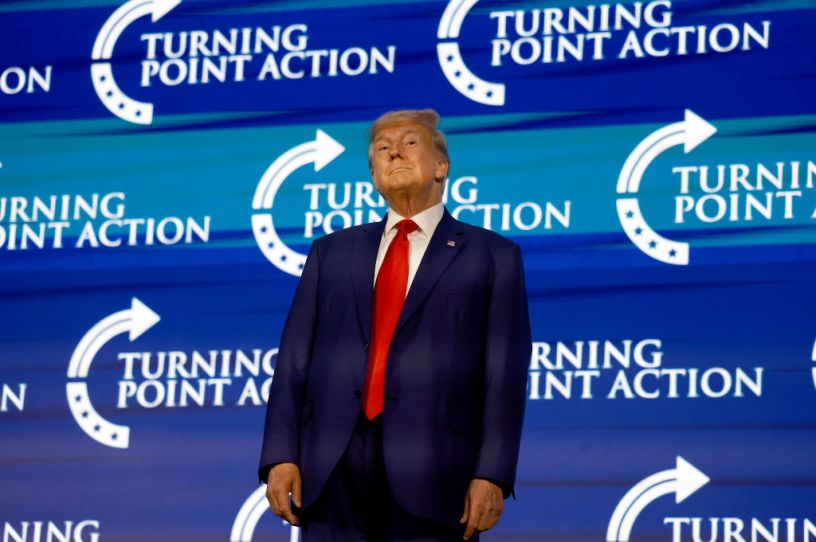 Donald Trump arrives on stage at the Turning Point Action conference on July 15, 2023, in West Palm Beach, Florida. (Photo by Joe Raedle/Getty Images)
Perhaps T.S. Elliot was wrong. July, not April, is the cruelest month, at least for GOP presidential contenders trying to supplant Donald Trump.
Before July, the campaigns have excuses for why the momentum hasn't kicked in yet. They can say they're just in exploratory-committee mode, or they're just getting the campaign stood up. Hey, we haven't had a chance to meet the voters yet at an Iowa Pizza Ranch or chat with the gang at Manchester Red Arrow Diner.
The ides of July is when the excuses evaporate in the summer heat as campaigns have to reveal their second quarter fundraising numbers. For Trump's challengers, those numbers vary in ugliness, but none are pretty. Mike Pence, a former vice president with enormous name ID, raised a paltry $1.2 million and may not reach the 40,000 small donors required to make the first GOP debate. Chris Christie, who has the highest negatives of any of the declared candidates, raised $1.6 million and has enough small donors to make the debate.
The most significant disclosures came from Florida Gov. Ron DeSantis. He raised a lot of money—$20 million—but he maxed out 70 percent of his donors, meaning he can't go back to them again. And he's burning through an enormous amount of cash.