Why India Matters to the United States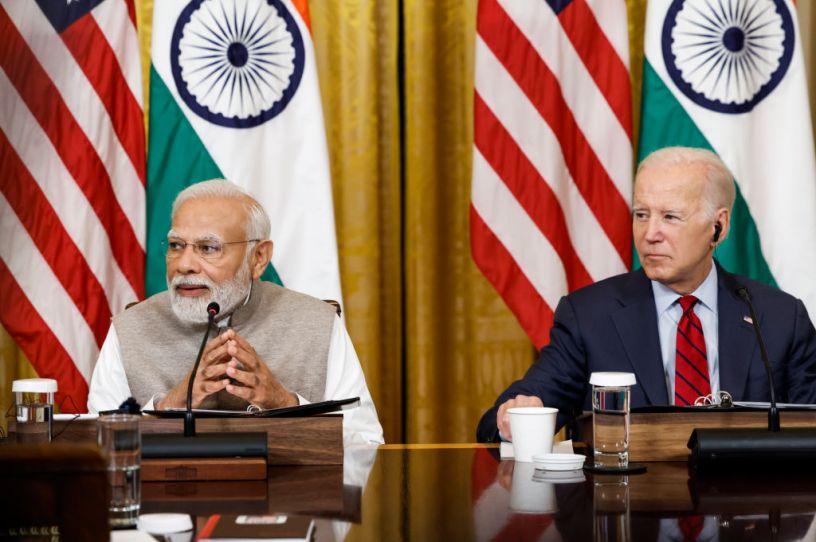 Indian Prime Minister Narendra Modi speaks during a roundtable with American and Indian business leaders alongside U.S. President Joe Biden in the East Room of the White House on June 23, 2023, in Washington, D.C. (Photo by Anna Moneymaker/Getty Images)
By most measures, the recent state visit by Prime Minister Narendra Modi marked a high point in the U.S.-India relationship. President Joe Biden called the partnership "among the most consequential in the world" and "stronger, closer, and more dynamic than any time in history." And it is getting stronger: The United States became India's largest trading partner this past year, and the visit yielded a bevy of new agreements, including one to jointly manufacture fighter jet engines.
But doubts about India linger in the United States. A group of progressive House Democrats boycotted Modi's address to a joint session of Congress. "We must never sacrifice human rights at the altar of political expediency," they argued in a statement. Others fear that India cannot live up to the expectations of being a "consequential" partner because it lags too far behind China and—as evinced by its relatively muted response to Russia's invasion of Ukraine—does not see autocracy as a global threat. Eminent India hand Ashley Tellis writes, for example, that "Washington's current expectations of India are misplaced."
Their concerns should be taken seriously, but if carried too far they could uproot a still-blossoming relationship that has not yet borne its full fruit. The views of the ruling right-wing Bharatiya Janata Party (BJP) on human rights and dignity—particularly on freedom of speech—-sometimes clash with those of Westerners, and the geopolitical situation can look very different from New Delhi than it does from New York. But the shared interests and values between the world's two largest democracies can offer a sturdy foundation for the relationship.
In fairness to the India skeptics, American history shows that India has disappointed before. When American and French forces celebrated their victory at Yorktown in the Revolutionary War, they toasted "the great and heroic Hyder Ali," their south Indian comrade-in-arms who sought to "reduce the power of Britain in the East Indies." India proved too disunited to fend off Britain though, and Lord Cornwallis redeemed his surrender at Yorktown by defeating Hyder Ali's son. Much later, after India finally gained independence in 1947, an American diplomat called Prime Minister Jawaharlal Nehru "outstandingly the most vital and influential person for the accomplishment of U.S. objectives in Asia." That was before India's "nonalignment" foreign policy tilted toward the Soviet Union.
You're out of free articles
Create an account to unlock 1 more articles