Will Biden's Student Loan Forgiveness Plan Stand?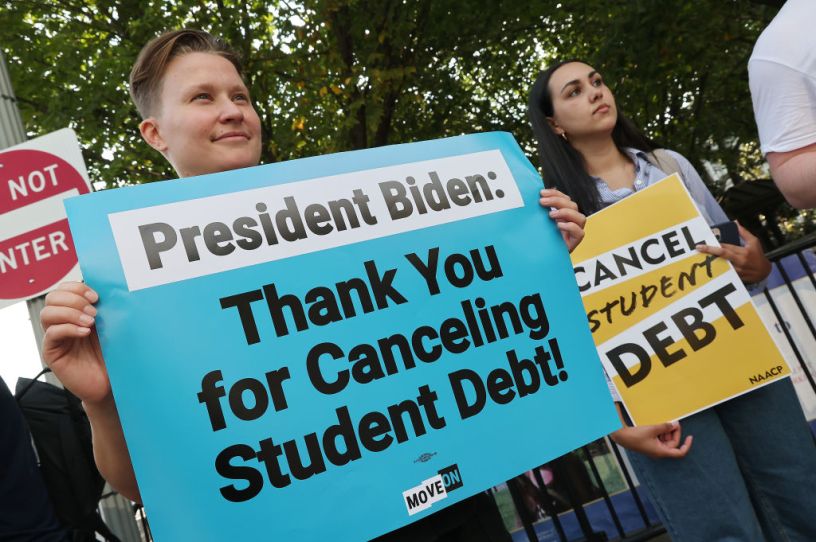 Student loan borrowers stage a rally in front of the White House in August 2022 to celebrate President Joe Biden cancelling student debt. (Photo by Paul Morigi/Getty Images for We the 45m)
President Joe Biden's plan to unilaterally forgive hundreds of billions of dollars of student loan debt will get its day before the Supreme Court on Tuesday when attorneys make oral arguments.
The COVID-19 pandemic prompted Trump administration officials to issue a moratorium on federal student loans' interest accrual repayments. But Biden's move in August to cancel outright billions of dollars in debt—after initially extending the moratorium—pushed the bounds of executive authority to new levels. Biden's plan would cancel up to $20,000 in federal student loans for as many as 26 million eligible borrowers (though most borrowers are expecting closer to $10,000 to be forgiven). The cost of his plan clocks in at an estimated $400 billion over 30 years, according to the nonpartisan Congressional Budget Office.
But lower courts blocked the move after legal challenges, and the administration stopped accepting new applications in November. The Supreme Court agreed to fast track the issue and will hear arguments from two lawsuits that challenge the plan.
Two cases, one issue.