A Debate About Nothing, and Everything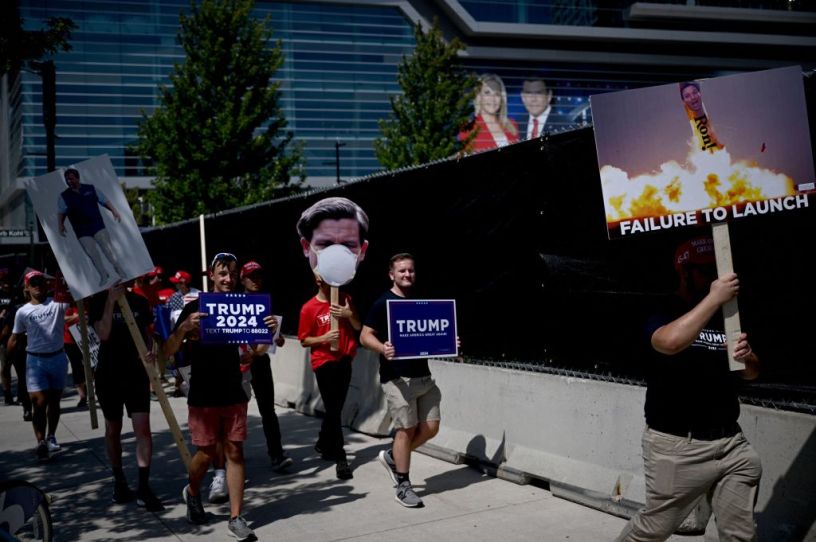 Supporters of former President Donald Trump carry signs depicting Florida Gov. Ron DeSantis outside the Fiserv Forum in Milwaukee, Wisconsin, on August 23, 2023. (Photo by Brendan SMIALOWSKI / AFP) (Photo by BRENDAN SMIALOWSKI/AFP via Getty Images)
I had planned to write about how most of tonight's Republican debate participants deserve to have their 'nads zapped with electric shocks, but I see that the subject has been covered elsewhere.
Maybe I'll address it in the future. It's a rich genre, full of possibilities.
Instead, let's talk about something even more comically absurd. Let's talk about Rudy Giuliani.
It's been so long since Rudy was anything more than a pitifully broken clown in public that some of my own colleagues at The Dispatch have no memory of it, I suspect. Someday those of us on staff who are of colonoscopy age will gather around the young'uns and tell them all about how Giuliani was once taken semi-seriously in politics. Really.
Seriously enough to have been named Time magazine's Person of the Year. Seriously enough to have (briefly) led Republican presidential polls one cycle. Seriously enough to have been twice elected mayor of America's biggest city. Seriously enough to have served as Ronald Reagan's top prosecutor in Manhattan, where he put away numerous mobsters on racketeering charges.
Today, the day of the first 2024 Republican presidential debate, Rudy Giuliani surrendered to authorities in Georgia and was booked—on racketeering charges.
His decline and disgrace isn't a perfect metaphor for the decline and disgrace of the Republican Party—Rudy never pretended to be dogmatically conservative, for instance, which is why he led the polls of yesteryear only briefly. But it feels right that while the rest of the field meets in Milwaukee to discuss the future of the country, henchmen of the guy who's up 40 points in the current primary are spending Wednesday having their mugshots taken. The modern GOP is part political party, part criminal syndicate. Today's split-screen reminds us.
It also makes tonight's debate a preposterous spectacle. But not an entirely useless one.
You're out of free articles
Create an account to unlock 1 more articles