Kevin Williamson Moderates the GOP Debate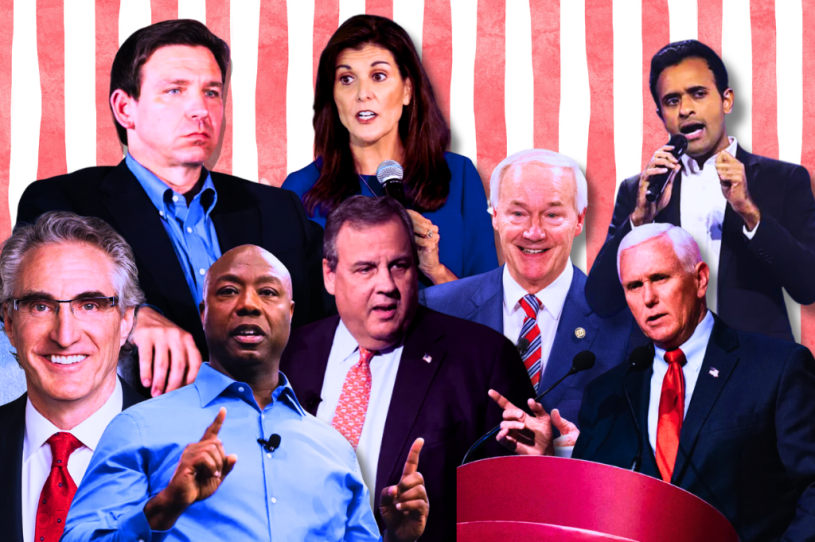 (Photo illustraton by Victoria Holmes/The Dispatch. Photos from Getty Images.)
Thank you all for being here. It is weird not to have the frontrunner here, of course. But, then, it's a little weird that the frontrunner is the guy who lost last time around and then tried to overthrow the government.
Which brings us to our first question: Who won the 2020 presidential election?
I'd like to remind you that those electrodes attached to your … are we allowed to say that on television? … are hooked up to our state-of-the-art Acme B.S. Detector. And thanks to our sponsors at Acme B.S. Detectors! On the other side of that circuit is a Duralast Platinum AGM Battery boasting 750 cold-cranking amps—and thanks to our other sponsors at AutoZone! You know the drill: We have Mitch Daniels standing by with the controls in hand, and, if you try to wholesale the kind of bull you normally feed gullible Republican primary voters and fawning Fox News types to our audience, then it is ZAP! right in the 'nads.
Mrs. Haley? Are you leaving? No, I'm not going to call you "governor" when you haven't been a governor in more than half a decade, and everybody knows you are running for vice president but are going to end up secretary of education at best. All right, good luck. Well, that saves some time. Could someone grab her lavalier before she goes? We don't want to lose our deposit.