Calvinball in Ohio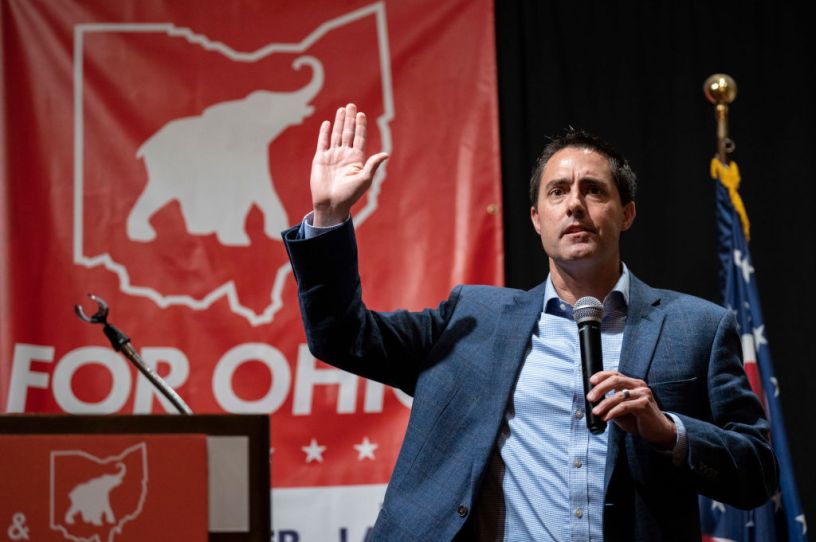 Ohio Secretary of State Frank LaRose speaks at a campaign stop on November 4, 2022, in Moraine, Ohio. (Photo by Drew Angerer/Getty Images)
Imagine what this country might look like if amendments to the U.S. Constitution could be enacted by simple majorities in national referendums.
The Supreme Court's decision in Brown v. Board of Education desegregating public schools might have been overturned. Support for that ruling after it was issued was stronger than you might assume given the era, but at one point in the mid-1950s the public was split as narrowly as 52-44 in favor. A referendum held at the time to undo the decision could have gone either way.
Interracial marriage has been constitutionally protected since 1967, when the court decided Loving v. Virginia, but public support for the practice lagged for years afterward. As recently as the mid-1990s—no typo—a minority of Americans approved of marriages between whites and blacks. Loving too might have been undone at the polls.
In 1942, the court infamously upheld the federal government's power to intern Japanese-Americans during wartime. But had that decision gone the other way, it's a cinch that a national referendum would have overruled it. A poll taken that year found 59 percent of Americans supported forcibly removing U.S. citizens of Japanese descent from the West Coast.
Get every newsletter and all of The Dispatch. Support quality, fact-based journalism.
Start Your Free Trial
ALREADY A PAID SUBSCRIBER? SIGN IN