Crime and Punishment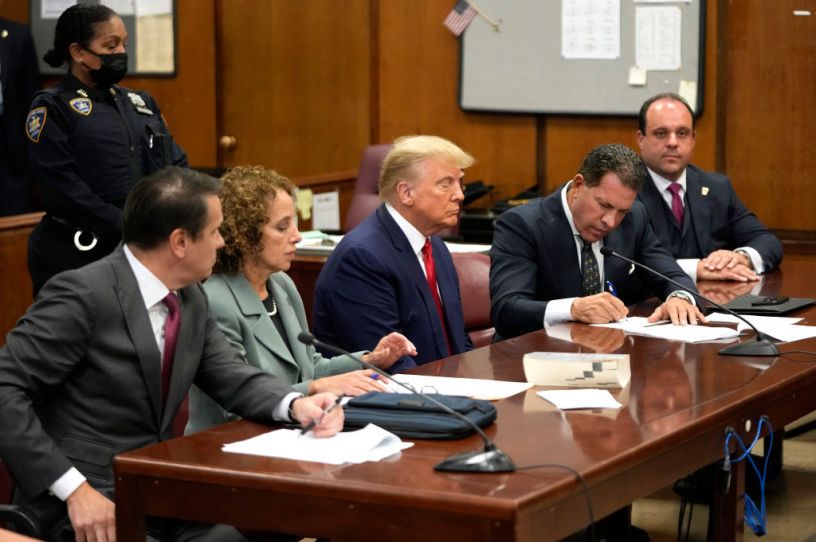 Former U.S. President Donald Trump sits with his attorneys inside the courtroom for his arraignment proceeding on April 4, 2023 in New York City. (Photo by Steven Hirsch-Pool/Getty Images)
Since 2015, when the circus first came to town, news junkies on social media have greeted bizarre new developments in the Trump saga with jokes about "the writers." The idea is that our politics has grown so strange and sordid that it can't be real; we must be living in a gonzo simulation, and logically someone must be responsible for scripting it. A writer—or writers.
The president might go to prison for paying off a porn star? The writers really outdid themselves with this one.
Trump's persona lends itself to the joke. He's a former reality TV star and once harbored ambitions of becoming a movie mogul. And both he and the people with whom he surrounds himself tend to behave so cartoonishly ineptly or corruptly that they scan more easily as fictional characters than as flesh and blood. Remember Rudy Giuliani's press conference at Four Seasons Total Landscaping? Look me in the (virtual) eye and tell me that was reality rather than a scripted comic set piece.
The gag about "the writers" is just a gag. But watching Tuesday night's split screen of Trump hosting an "arraignment party" at Mar-a-Lago while the disastrous election returns from Wisconsin streamed in, it was harder than usual to believe this is all really happening by chance. The synchronicity, the implied cause and effect, it all seemed too perfect to be coincidental.
Get every newsletter and all of The Dispatch. Support quality, fact-based journalism.
Start Your Free Trial
ALREADY A PAID SUBSCRIBER? SIGN IN