Only Trump Is Trump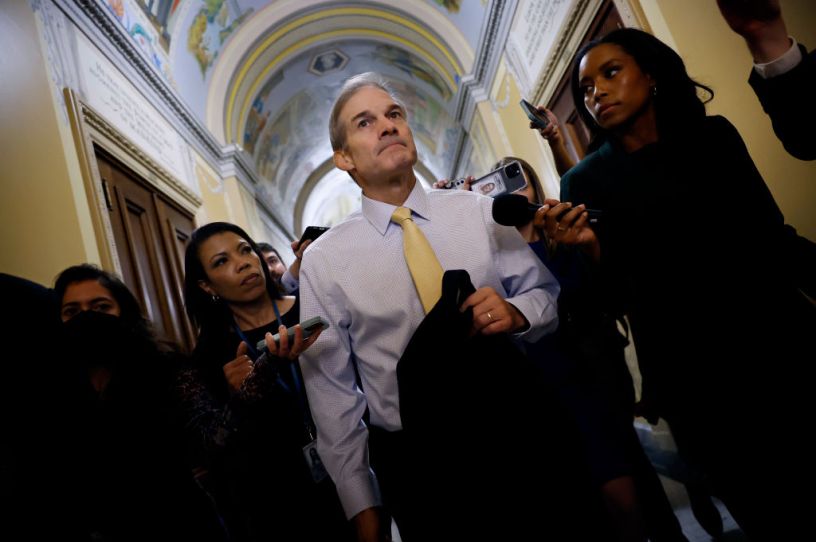 Rep. Jim Jordan is followed by reporters after leaving an hours-long House Republican members meeting at the U.S. Capitol on October 19, 2023, in Washington. (Photo by Chip Somodevilla/Getty Images)
Day after day, we wander together in this newsletter through a desert of discouragement. I get paid to do it, but why you people choose to suffer with me, I'll never know.
Just kidding. I do know. It's because you dream that someday the skies will open and shower us with good news. You want to be here when the clouds burst and watch me dance in the downpour.
You want to see what it looks like when Eeyore finally smiles.
Today's the day. It's raining.
It's raining schadenfreude, specifically.
It's raining in Georgia, where Sidney Powell has copped a plea that requires her to formally apologize for her role in Trump's failed coup plot—and to testify against her co-conspirators. The prospect of the "Kraken's" caretaker turning stoolie against MAGA is delightful morally and useful civically. The next time some band of reprobates gets itchy about overturning an election, Powell's example will caution them that there's no honor among thieves.
Most of the rain is concentrated in Washington, though, where the public torment of another insurrectionist has supplied our weary country with the feel-good moment it needs and deserves.
As I write this on Thursday afternoon, the only certainty about Jim Jordan's candidacy for speaker is how humiliating the process has been for him. A third House vote was supposed to be held this morning but was canceled when he still couldn't find the votes he needed. Republicans proceeded to hold a long, angry conference meeting instead, which may or may not have involved someone lunging at Matt Gaetz. Jordan remains far short of 217 votes and is poised to shed further support on the third ballot, which might happen tonight. Possibly.