Team Players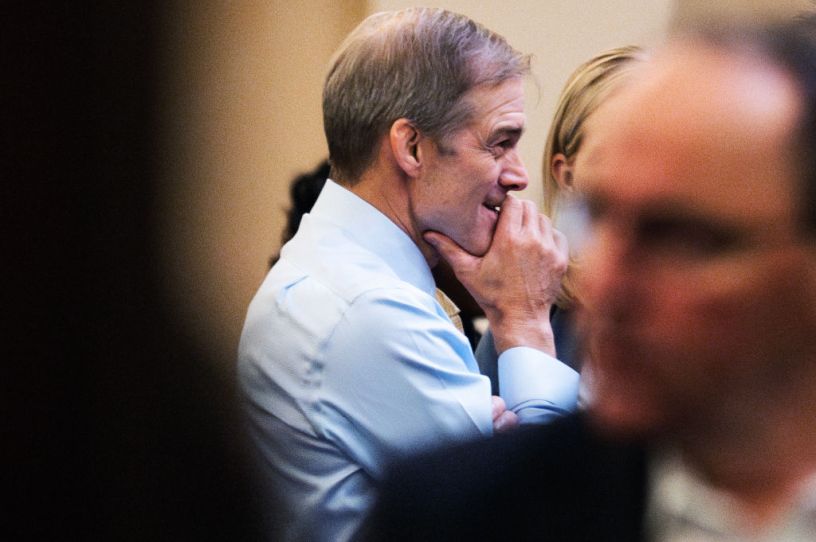 Rep. Jim Jordan after being voted the party's nominee for speaker of the house at the Longworth Building on Friday, October 13, 2023. (Tom Williams/CQ-Roll Call, Inc via Getty Images)
On Monday, former Paul Ryan aide Brendan Buck marveled at the absurdity of the latest House speakership drama. "The 'Be a team player and support Jim Jordan' movement is really something else," he joked.
Jordan is the new Republican nominee for speaker, a candidacy made possible by the audacity of his populist allies in refusing to be team players themselves. First, a small bloc led by Matt Gaetz joined with Democrats to wrest the gavel from Kevin McCarthy, thwarting the will of more than 200 Republicans. Then, after Steve Scalise defeated Jordan in a vote of the Republican conference, another bloc of Jordanaires refused to bow to the will of the majority by supporting Scalise in a vote of the full House.
Jordan needed two separate instances of minority rule to lift him to the top of the conference. Now that he's there, he expects party loyalty—being a team player—to kick in.
On Friday, after he won the latest vote to nominate a speaker, House Republicans were polled via secret ballot on whether they'd support Jordan in a vote of the full House. No less than 55 said no, some out of anger at how Scalise had been treated, others out of disgust at the thought of a rabble-rousing insurrectionist kook ascending to the speakership. That left Jordan in the same situation in which Scalise had found himself days earlier.