The Most Rational Candidate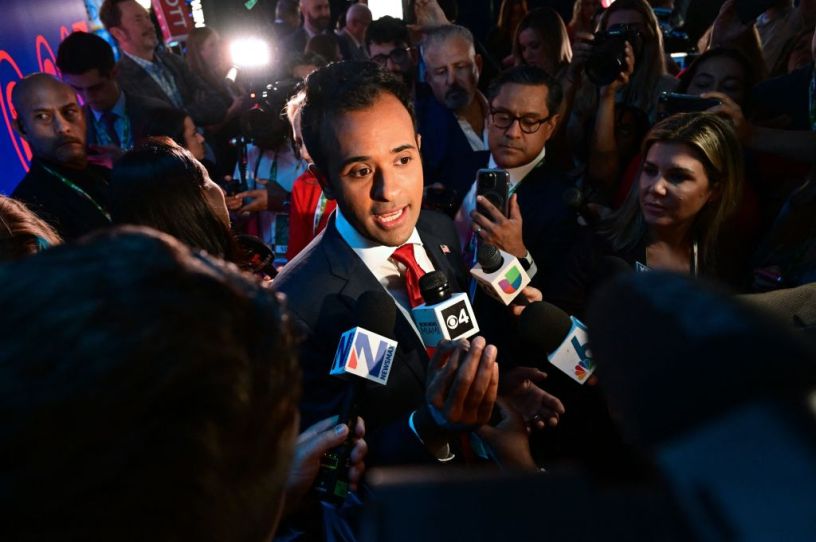 Biotech entrepreneur Vivek Ramaswamy speaks to members of the media in the spin room following the third Republican presidential primary debate in Miami, Florida, on November 8, 2023. (Photo by GIORGIO VIERA/AFP via Getty Images)
When the Republican primary ends next year, which candidate at Wednesday night's debate will have done the most for him or herself politically?
Not Chris Christie or Tim Scott. Christie's moment as a national contender passed years ago. He's used the spotlight this campaign has granted him commendably by speaking hard truths about his friend Donald, but it's made him a pariah on the right.
Scott's moment has also passed. While he might remain viable in 2028 in theory, he's too underwhelming as a retail politician to ever again be taken seriously as a presidential hopeful. If he runs again in the next cycle, some talented demagogue will eat him alive.
Not Ron DeSantis or Nikki Haley either. They're the two highest-polling alternatives to Trump and therefore the candidates most likely to overtake him. But overtaking him would require attacking him aggressively, one would think, and neither seemed much interested in that. Even the moderators from NBC News didn't bother about the elephant in the room after a brief segment early on.
DeSantis and Haley are polling well enough that they'd qualify as VP material in a more traditional party, yet Trump bears the governor for Florida too much of a grudge at this point to ever consider him. Haley is more plausible because of how well she polls head-to-head against Joe Biden, but the debates have become a sort of advertisement for how un-MAGA her sensibility is, especially on foreign policy. Trump wants a vice president who'll do his bidding unthinkingly after his last one failed him in a big moment. Haley has already proved her willingness to defy him.
One could argue that she and DeSantis have improved their positions for 2028 by running this year, boosting their name recognition nationally. DeSantis has underperformed so dismally, however, that I wonder if populist voters will ever again look at him the same way. The gap between the hype that preceded his campaign and the results he delivered will dog him. He's even become an object of ridicule to some in a party that relishes dominance and machismo in its leaders.
As for Haley, her only hope of prevailing in the next cycle is Republicans losing again in this one, forcing a reckoning on the right with Trumpism that leads GOP voters to reembrace traditional conservatism and "electability." Of course, that was also her plan for prevailing in this cycle; the post-2020 reckoning with MAGA populism never came. Why would anyone suppose it'll come before 2028 when Trump is shaping up to do better in next year's election than he did in the last one?
The candidate in last night's debate who's made the most lemonade out of the lemons handed to him in this dispiriting primary is plainly Vivek Ramaswamy.