Happy Thursday! The Smithsonian National Zoo's panda family—Mei Xiang, Tian Tian, and Xiao Qi Ji—left Washington for China yesterday aboard a FedEx flight, leaving Zoo Atlanta the only remaining place in the United States with the lovable bears (don't tell Jonah we said that) on display. China's loan agreement with that zoo expires next year, meaning America could soon be panda-less for the first time in decades. We can only hope this is on the top of Biden's agenda when he meets with Chinese President Xi Jinping next week.
Quick Hits: Today's Top Stories
Miami Vice (Presidential Debate?)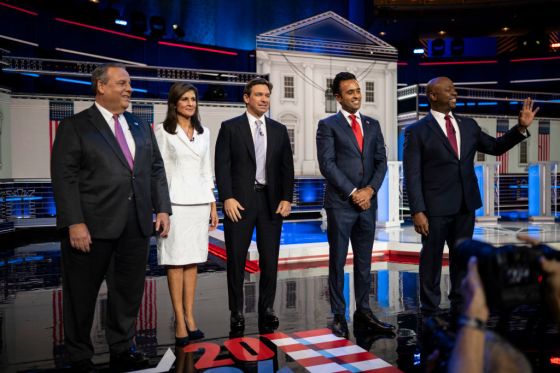 Before the five qualifying candidates took to the debate stage in Miami, Florida, last night, biotech entrepreneur Vivek Ramaswamy gave an ABC News reporter a taste of his strategy: "Be unhinged," he said.
Twelve minutes into the program, he had lamented that Tucker Carlson, Joe Rogan, and Elon Musk weren't co-moderating the debate, and called both former U.N. Ambassador Nikki Haley and Florida Gov. Ron DeSantis, "Dick Cheney in three-inch heels." Promises made, promises kept, we suppose.
Ramaswamy's "unhinged"-ness aside, the third GOP debate was remarkably tame—and even substantive—compared to the candidates' first two outings. The five contenders on stage addressed questions on the war in Israel, the economy, and Republicans' recent electoral struggles under strict instructions from the moderators—Kristen Welker and Lester Holt of NBC News and Hugh Hewitt of Salem Radio—not to interrupt each other, on the threat of receiving fewer questions. But for all its relative depth on policy, the debate nevertheless did little to provide an answer to the only question that mattered: Why one of the Republicans on stage, and not former President Donald Trump?