The Return of Roe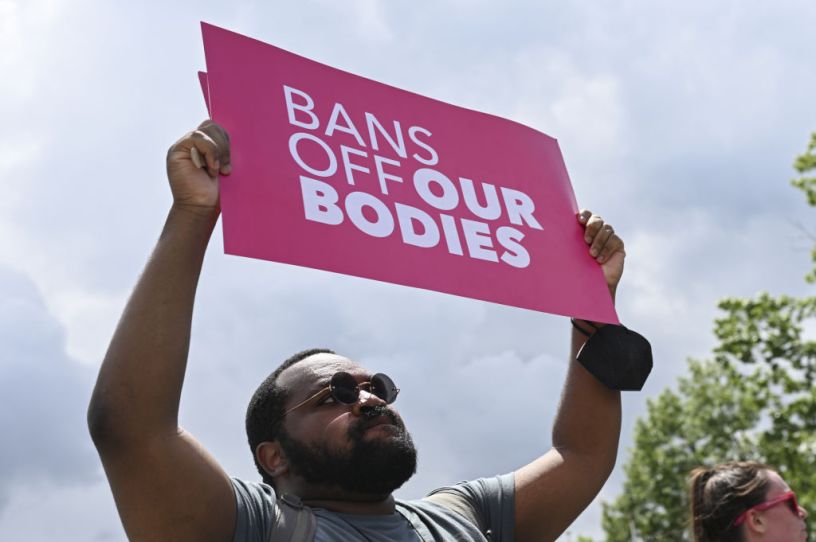 People gather to protest the first anniversary of the Supreme Court's Dobbs v. Women's Health Organization case in Columbus Circle in Washington on June 24, 2023. (Photo by Celal Gunes/Anadolu Agency/Getty Images)
For months the GOP has played a game of Calvinball in Ohio. The rules of Calvinball are unpredictable, by definition. The outcome of this particular game was not.
My colleagues at the Morning Dispatch covered the ins and outs of last night's referendum in today's edition. Months ago, fearing that the pro-choice side is likely to win an upcoming ballot initiative on adding abortion rights to the state constitution, Republican lawmakers in Ohio hit upon an idea: They would raise the bar for victory. They scheduled an election for August seeking voter approval to lift the threshold for ballot initiatives to amend the constitution to 60 percent, up from 50, as has been the law in Ohio for more than 100 years.
Pro-choicers are quite capable of mustering simple majorities on initiatives related to abortion, as they've proved recently in places like Kansas and Michigan. But a supermajority? That's a heavy lift in all but the bluest states.
The Ohio GOP played Calvinball, in other words, aiming to change the rules in the middle of the proverbial game to produce an outcome it desired because it no longer believes it can persuade a majority to prefer that outcome on the merits. Result: In a state Donald Trump twice won comfortably, the raise-the-bar referendum went down in flames, 57-43. Ohio counties that have voted Republican reliably (or almost reliably) in presidential elections for a century joined the majority in opposition.