Two Can Play at That Game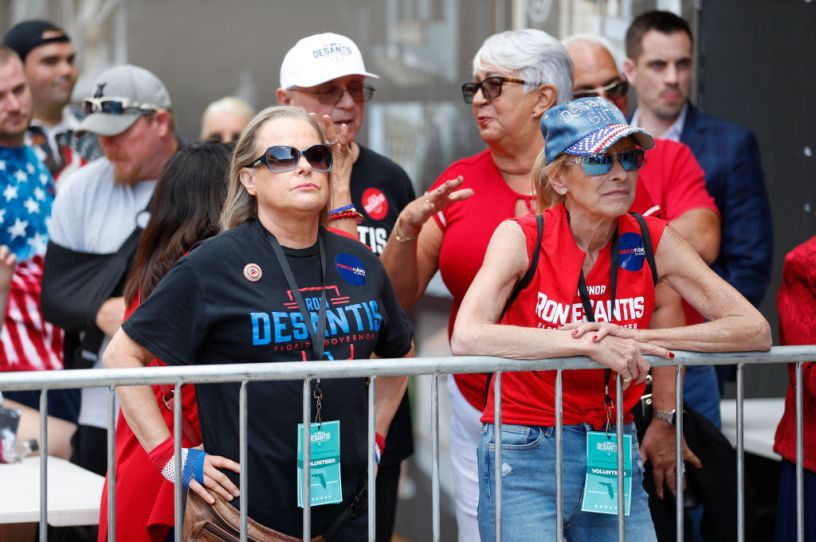 Supporters wait in line to hear Republican Florida Gov. Ron DeSantis speak at the Cheyenne Saloon on November 7, 2022, in Orlando, Florida. (Photo by Octavio Jones/Getty Images)
There are three certainties in life: death, taxes, and America's sorest sore loser petulantly refusing to endorse whoever beats him in the coming Republican primary.
No matter how many allies might beg him to unite the party for the good of the country, Donald Trump will regard pledging allegiance to his conqueror as an act of supreme weakness. To bend the knee would betray utterly the politics of dominance he's practiced since 2015. He's already reserved the right not to endorse the eventual nominee, in fact.
Even so, I find the prospect of embittered MAGA voters boycotting the general election en masse at his behest far-fetched.
Read any analysis of the primary and you'll be confronted with a what-if scenario in which a defeated Trump pronounces the new Republican nominee a cheater, his devotees swallow the lie whole, and the GOP is trounced by Democrats when millions of populist voters withhold their support on Election Day. If you believe the polling, more than a quarter of Republicans prefer Trump as an independent candidate to any nominee whom the GOP might offer. Getting crushed by the left after Trump splits the party and plays spoiler would be poetic justice for a party that's spent years rationalizing his sins for the sake of power.
Get every newsletter and all of The Dispatch. Support quality, fact-based journalism.
Start Your Free Trial
ALREADY A PAID SUBSCRIBER? SIGN IN