Criminalizing Work and Harming (Almost) Everyone in the Process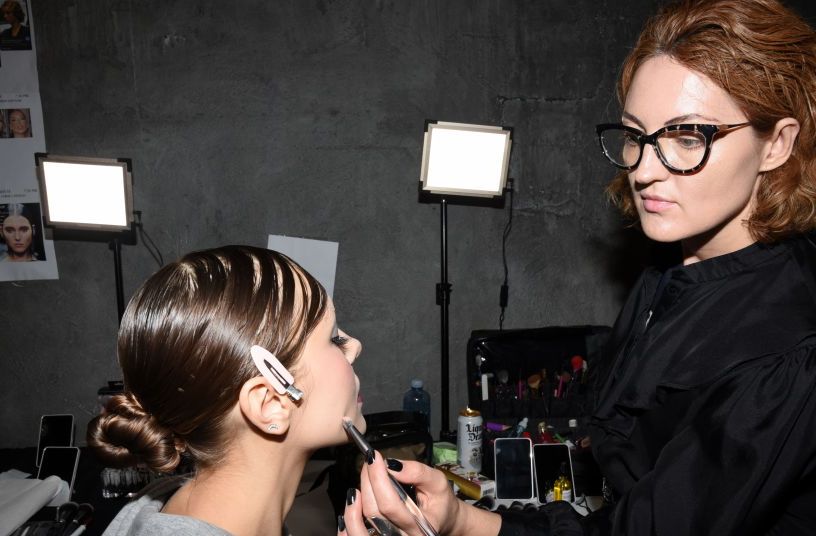 Makeup artists are among the professions that require licensing in many states. (Photo by Mark Gunter/Getty Images for Art Hearts Fashion.)
Dear Capitolisters (and those wanting to charge me with treason),
I planned to wait for the official rollout of my forthcoming book, Empowering the New American Worker, before getting into its many weeds, but recent events (and my impatience) pushed me to reconsider. In particular, we learned last week that Florida officials had arrested a Texas-licensed roofer for repairing a home damaged by Hurricane Ian and that several states weren't extending their pandemic-related rules relaxing telehealth restrictions. At first blush, these events and the parties involved would seem to have little in common. Dig a little deeper, however, and we find that both depend on a policy—occupational licensing—that's grown in prominence in recent years, with significant harms for workers, consumers, and the U.S. economy more broadly. And since licensing earned its own Empowering chapter by my Cato colleague Chris Edwards, it's a perfect time to discuss it (again).
A Review of Occupational Licensing's Growth and Burdens
Indeed, we first discussed occupational licensing here two years ago in the context of the pandemic-driven rise in American entrepreneurship. As Edwards and many other scholars have explained, however, licensing's implications go much further than mere business-formation. That's because licensing regulations—state-based restrictions on individuals entering an occupation unless they fulfill specific educational, training, and testing requirements—have exploded over the years, affecting about 5 percent of U.S. jobs in the 1950s but about 22 percent today. Regulated occupations also vary widely by state: The White House estimated in 2015 that about 1,100 different occupations required a license that year, up from only 30 in 1920. States now license not only medical and legal professionals, but also—per Edwards—"cosmetologists, manicurists, barbers, preschool teachers, athletic trainers, makeup artists, security alarm installers, taxidermists, sports coaches, travel agents, bartenders, animal trainers, tree trimmers, tour guides, interior designers, auctioneers, massage therapists, and many others." Whew.
By restricting the supply of available services within and across state borders, licensing imposes all sorts of economic costs—and there's now a deep reservoir of research documenting them. Consumers pay higher prices charged by protected incumbents, suffer reduced availability and increased wait times for licensed services, and experience less innovative products in the sector at issue (see, e.g., licensed cab companies versus unlicensed Uber). Many workers are discouraged from moving to thriving places or to jobs that better match their skills or personalities, while others are discouraged from exiting jobs that required them to obtain a license (sunk costs and all that)—in both cases reducing productivity. Aspiring entrepreneurs are discouraged from entering licensed fields. And current employers in those fields can face more difficulty finding workers.
Get every newsletter and all of The Dispatch. Support quality, fact-based journalism.
Start Your Free Trial
ALREADY A PAID SUBSCRIBER? SIGN IN