2024 Republicans Unite to Blast Hunter Biden's 'Sweetheart Deal'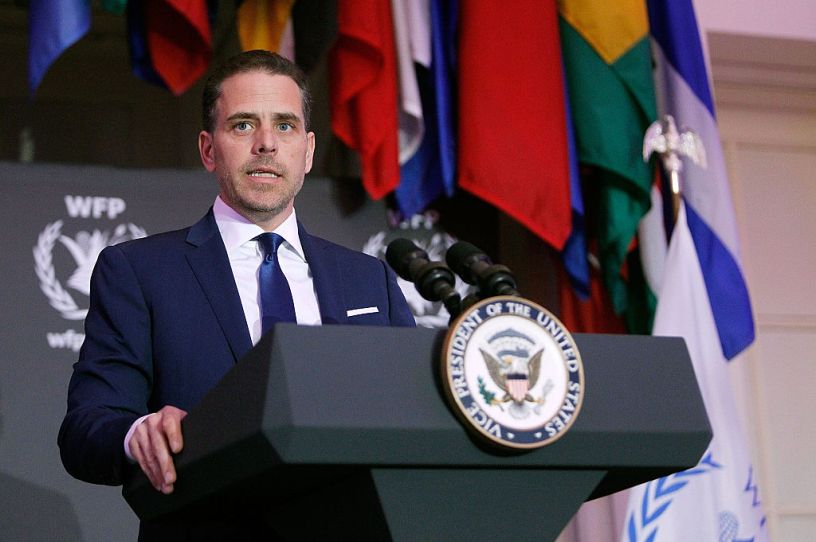 Hunter Biden speaks at a World Food Program event on April 12, 2016. (Photo by Paul Morigi/Getty Images for World Food Program USA)
Happy Wednesday! This is basically just an indictments newsletter now.
Up to Speed
Hunter Biden will plead guilty to two misdemeanors related to unpaid taxes, according to a plea deal announced by the Department of Justice Tuesday. The agreement is not expected to include a prison sentence, with the president's son instead likely to serve two years of probation. An additional felony gun charge will enter "pretrial diversion," meaning it will be dropped if Biden does not violate his probation. Republicans have denounced the plea as a "sweetheart deal," and the House GOP has vowed to continue its probes into the overseas business dealings of the Biden family.
In Donald Trump's first TV interview since his federal indictment, the former president told Bret Baier of Fox News he did not comply with a Department of Justice subpoena to return government documents because he was "very busy" and the documents needed to be separated from his personal belongings. In the interview, which ran in part on Monday, Trump also claimed "everything was declassified" and he was not referring to "a document per se" on an alleged recording of him showing secret information to others, but rather "newspaper stories, magazine stories, and articles."
The Wall Street Journal reported Tuesday that China plans to establish a military training facility in Cuba and that the Biden administration has tried to head off the deal. The report follows the Journal's reporting earlier this month that China and Cuba had agreed to build an eavesdropping facility on the island nation, which would allow China to track U.S. ships and monitor electronic communications throughout the southeastern U.S. The Biden administration initially denied that report before changing its tune, stating that Chinese intel facilities had existed in Cuba since at least 2019.
South Carolina Sen. Tim Scott appeared at a Fox News town hall Tuesday, pitching himself as the presidential race's hopeful and optimistic candidate while railing against the Biden Department of Justice and pledging to "finish" the investigation into Hunter Biden. "With your help, we are going to fire Joe Biden, and then we are going to fire Merrick Garland and fire Christopher Wray," Scott said.
Former ambassador and South Carolina Gov. Nikki Haley will deliver a "major foreign policy speech" Friday at the American Enterprise Institute, a center-right think tank in Washington. The address will focus on China.
The National Republican Congressional Committee, the House GOP campaign arm, raised $7.8 million in June, growing its war chest to $23.7 million while paying off its remaining debts from the 2022 election cycle. That tops the Democratic Congressional Campaign Committee, which collected $7.6 million last month. However, the DCCC reported more cash on hand than the NRCC as of June 1, with $28 million.
2024 Republicans Denounce Hunter Biden 'Double Standard'
In the wake of Tuesday's news that Hunter Biden will plead guilty to two misdemeanor tax charges in order to avoid a felony gun charge, at least one Republican presidential campaign is reacting just how you'd expect.
"Today proves that there is a clear two-tiered system of justice—one for the Democrats and one against President Trump," Trump spokesman Steven Cheung tells The Dispatch. "As President Trump predicted earlier this month, Hunter was given a sweetheart deal that sweeps his crimes under the rug in a blatant attempt to interfere with the 2024 election."
A bit more surprising: the fact that nearly all of Trump's primary competitors are echoing the same message.