A Looming Shutdown Threatens Republicans in Virginia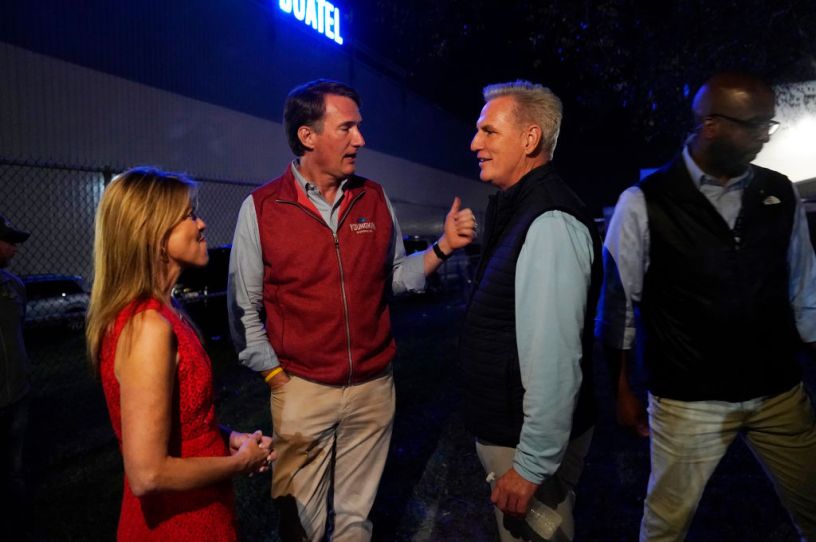 Then-House Minority Leader Kevin McCarthy speaks with Virginia Gov. Glenn Youngkin and wife Suzanne Youngkin before a rally on Monday, November 7, 2022, in Virginia Beach, Virginia. (Photo by Jabin Botsford/The Washington Post via Getty Images)
Happy Friday! If this newsletter isn't enough to satisfy your Dispatch Politics craving, check out this week's episode of the Dispatch Podcast, where all three of us chat about this week in the presidential race and Capitol Hill.
Up to Speed
With just eight days left to avert a government shutdown, there's little sign House Speaker Kevin McCarthy is making progress with the splinter group of hardliners who oppose a short-term spending package of any kind. On Thursday, a handful of these broke with their party again to spike a military appropriations bill that McCarthy believed had sufficient support to pass.
Some more moderate Republicans are threatening to break ranks and work with Democrats to avoid a shutdown if McCarthy can't get the hardliners in line. Rep. Mike Lawler, the New Yorker who has emerged this month as the most strident internal critic of the GOP conference's dysfunction, tweeted this morning that he "will work to pass a bipartisan CR next week, so that Congress can continue to do its work on the single subject appropriations bills while not inflicting pain on the American people."
Meanwhile, former President Donald Trump has thrown in with the obstructionists, posting on his social media website Truth Social Thursday that "Republicans in Congress can and must defund all aspects of Crooked Joe Biden's weaponized Government." "This is also the last chance to defund these political prosecutions against me and other Patriots," Trump went on. "They failed on the debt limit, but they must not fail now." While president, Trump sparked the longest government shutdown in American history while trying to secure congressional funding for his border wall, before ultimately deciding he could order it built without congressional approval.
Public opinion polling hasn't given President Joe Biden much to smile about lately in a hypothetical rematch with Trump. But a pair of fresh surveys in two battleground states show Biden outpacing his 2020 rival. In New Hampshire, Biden led Trump 52 percent to 40 percent. In this University of New Hampshire poll for CNN, the president garnered the support of 94 percent of Democrats; his predecessor was supported by 79 percent of Republicans. In Pennsylvania, a poll from the Republican firm National Public Affairs showed Biden leading Trump 47 percent to 45 percent.
Nikki Haley, the former South Carolina governor and U.N. ambassador, is strengthening her criticisms of Trump, calling him "thin-skinned," "easily distracted," and "weak in the knees" on Ukraine in a series of campaign stops in New Hampshire Thursday. Haley and the rest of the field still trail Trump by an enormous margin in most primary polls, but Haley has seen her numbers rise since the first presidential debate.
Vivek Ramaswamy, the presidential contender who claimed during the first debate that his competitors for the Republican nomination are all "bought and paid for" by their donors, is joining wealthy GOP campaign contributors in the San Francisco Bay Area to headline a fundraiser for his super PAC. The September 29 event is expected to raise $1 million, reports Teddy Schleifer of Puck News.
Federal Shutdown Could Ice Youngkin's Plan for GOP Takeover in Virginia
A looming shutdown of the federal government driven by Republicans in the House of Representatives threatens to derail Gov. Glenn Youngkin's ambitious campaign to consolidate power in the Virginia General Assembly. For the GOP, it's all rather familiar.
Ten years ago, House Republicans forced a government shutdown after Barack Obama and a majority Democratic Senate opposed a spending package that included a provision to defund the president's signature health care law. The impasse lasted more than two weeks. With polling showing voters' opinions of the GOP had sunk to historic lows, Republicans finally relented, clearing the way for legislation funding the government to pass the House with Democratic votes. The bill was swiftly approved by the Senate and signed by Obama. 
But the short-term political damage had been done. A few weeks after the government reopened, Republican Ken Cuccinelli lost a close race for Virginia governor to Democrat Terry McAuliffe, one Cuccinelli had led in most surveys ahead of the commonwealth's off-year elections.
You're out of free articles
Create an account to unlock 1 more articles