Attack on Israel Puts Foreign Affairs on the 2024 Map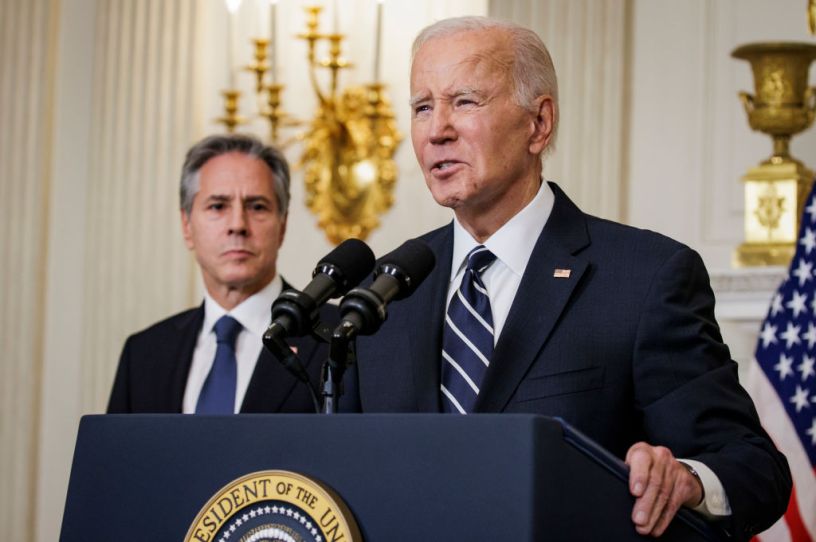 President Joe Biden speaks on the terrorist attacks in Israel alongside Secretary of State Antony Blinken from the State Dining Room at the White House on October 7, 2023 in Washington, DC. (Photo by Samuel Corum/Getty Images)
It's Monday. Afghanistan's handover to the Taliban was built up over years; Russia's invasion of Ukraine was telegraphed for weeks; Hamas' sudden strike from Gaza into southern Israel took the whole world—other than their co-conspirators—by surprise. We're in a different world today than we were last time this newsletter hit your inbox.
Up to Speed
In the wake of Hamas' surprise Saturday terror attacks on south Israel, President Joe Biden reaffirmed his administration's "rock-solid and unwavering" support for Israel and proclaimed that Israel "has the right to defend itself and its people, full stop." Many congressional Republicans and Democrats followed suit, expressing strong support for Israel. Sen. Lindsey Graham commended Biden's "strong statement": "There will be pressure to limit Israeli operations, as in the past, but I expect Congress and the Biden administration to stay strong and not give into such pressure."
Several hard-left Democratic lawmakers took a different approach, calling for immediate deescalation on both sides of the conflict. Rep. Cori Bush of Missouri said in a statement that "violations of human rights do not justify more violations of human rights, and a military response will only exacerbate the suffering of Palestinians and Israelis alike." "As part of achieving a just and lasting peace," she added, "we must do our part to stop this violence and trauma by ending U.S. government support for Israeli military occupation and apartheid."
The sudden conflict puts unexpected pressure on House Republicans to choose a new speaker, with the House essentially paralyzed and unable to respond until a new presiding officer is elected. Acting Speaker Patrick McHenry's role is largely ceremonial, amounting essentially to overseeing the process of selecting a new speaker; the fact that the House has never before removed a speaker midstream means the legal issues around whether he can—for instance—receive crucial intelligence briefings remains an untested legal area.
Republican presidential contenders immediately blamed President Joe Biden for the war now unfolding in Israel. Their comments were punctuated by a tweet from Sen. Tim Scott of South Carolina, who claimed Biden's "negotiation funded the attack" and declared the president directly "complicit." Scott was presumably referring to a deal the Biden administration made with Tehran to unlock Iran's access to $6 billion in previously blocked funds in exchange for the release of five American hostages. That money is still sitting in a Middle East bank account.
Nikki Haley's campaign claims the Republican presidential contender raked in more than $11 million in the third quarter fundraising period ending September 30. The former South Carolina governor, on the rise in public opinion polls, will report $11.6 million in cash on hand, with $9.1 million available to spend in the GOP primary. "We have seen a big surge in support and have real momentum," Haley spokesperson Olivia Perez-Cubas says in a statement issued Monday.
Will War in Israel Scramble the 2024 Primary?
Even with a land war raging in Europe for more than a year since Russia's invasion of Ukraine, the unfolding 2024 presidential campaign has focused primarily on domestic issues. The conflagration in Israel that erupted Saturday is poised to elevate foreign affairs, opening new battle lines in the race for the Republican nomination.
Unlike the divisions roiling Republicans over Ukraine, support for the Jewish state after a deadly, surprise attack by the Palestinian terrorist organization Hamas is virtually unanimous among the GOP contenders. But some Republican presidential contenders seized on the fresh military conflict in the Middle East to paint their primary opponents as naive appeasers whose dovish foreign policy would make the United States, and American allies, more vulnerable to attacks from adversarial regimes and terrorists.
"I call on Donald Trump, Vivek Ramaswamy, and Ron DeSantis to abandon the language of appeasement—to say that we will stand with Israel, we will stand strong with Ukraine, we will stand as the leader of the free world," former Vice President Mike Pence said over the weekend while campaigning in Iowa, referring to the former president, the wealthy biotech entrepreneur, and Florida's governor, respectively.
You're out of free articles
Create an account to unlock 1 more articles