DeSantis Plants a Flag in Iowa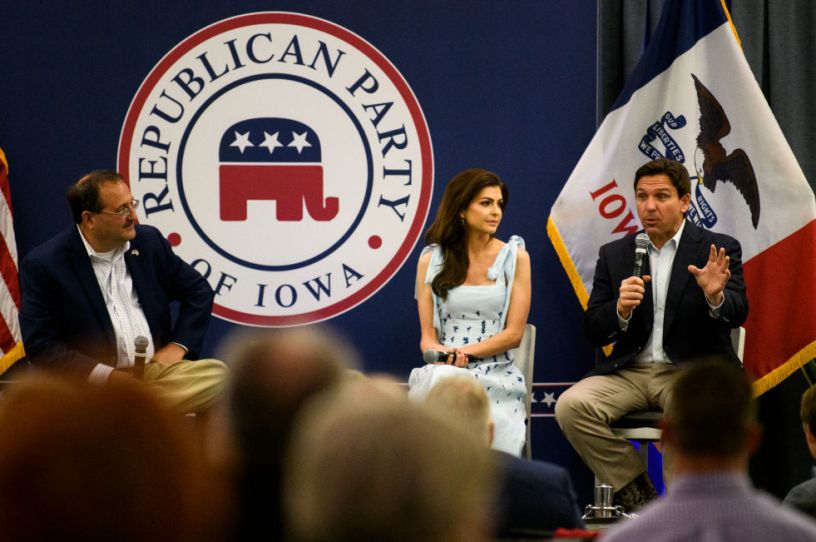 Florida Gov. Ron DeSantis speaks onstage with his wife, Casey DeSantis during an Iowa GOP reception on May 13, 2023 in Cedar Rapids, Iowa. (Photo by Stephen Maturen/Getty Images)
Happy Monday! We hope you all called your moms yesterday—and that you stayed a little more on message than the 45th president did: "Happy Mother's Day to ALL, in particular the Mothers, Wives and Lovers of the Radical Left Fascists, Marxists, and Communists who are doing everything within their power to destroy and obliterate our once great Country. Please make these complete Lunatics and Maniacs Kinder, Gentler, Softer and, most importantly, Smarter, so that we can, quickly, MAKE AMERICA GREAT AGAIN!!!"
Up to Speed
Florida Gov. Ron DeSantis barnstormed Iowa over the weekend, holding events in Sioux Center, Cedar Rapids, and Des Moines Saturday. Former President Donald Trump was scheduled to hold his own rally in Des Moines, but the outdoor event was canceled due to a Saturday afternoon tornado watch in the area.
Former South Carolina Gov. Nikki Haley said Sunday that "it's not realistic" for Republicans to talk about a federal ban on abortion at present, since such a move would require 60 votes in the Senate. One prominent pro-life group, SBA Pro-Life America, immediately blasted the comments: "The pro-life movement must have a nominee who will boldly advocate for [a 15-week ban], and as president will work tirelessly to gather the votes necessary in Congress. Dismissing this task as unrealistic is not acceptable."
Treasury Secretary Janet Yellen said she is "hopeful" about the progress President Biden and congressional leaders are making over the debt-ceiling standoff after a White House meeting last week proved unproductive in bringing leaders to a deal. "I think the negotiations are very active," Yellen told the Wall Street Journal on Saturday. "I'm told they have found some areas of agreement."
North Carolina Gov. Roy Cooper, a Democrat, vetoed the state legislature's newly passed 12-week abortion ban on Saturday, lambasting the bill as legislation that forces women to "navigate a wicked obstacle course just to get care." The Tarheel State legislature's Republican supermajority is expected to override Cooper's veto.
Kentucky gubernatorial contender Kelly Craft is bringing in Republican presidential candidate Vivek Ramaswamy ahead of this Tuesday's GOP primary in the Bluegrass State. The two are scheduled to appear together Monday afternoon at a rally in Lexington. Craft's main rivals for the GOP nomination are state Attorney General Daniel Cameron and Agriculture Commissioner Ryan Quarles.
After Months of Missteps, DeSantis a Hit in Iowa
SIOUX CENTER, Iowa—The drumbeat of doubt surrounding Ron DeSantis and his 2024 prospects might be justified. But the drums were silent this weekend here in the state hosting the crucial first Republican presidential nominating contest early next year.
On Saturday morning, DeSantis headlined Rep. Randy Feenstra's "Feenstra Family Picnic," the annual grassroots fundraising bash in the congressman's Northwest Iowa district. The event is usually held in July, but Feenstra moved it up this year at DeSantis' request, to coincide with the expected launch of the Florida governor's White House bid. He wasn't disappointed: The picnic welcomed a record crowd of roughly 700 people, some of whom drove for hours to see DeSantis.
Enthusiasm for the governor's anticipated presidential campaign has been percolating for months, and the level of interest in this conservative stronghold of Iowa exposed an unmistakable political opportunity. DeSantis has recently weathered a steep slump in national polling amid withering attacks from Donald Trump, now the clear frontrunner in the GOP primary. But he remains positioned to use the Iowa caucuses to turn the tables on the former president, an important step if he hopes to capture the nomination.