It's Republican Debate Day in America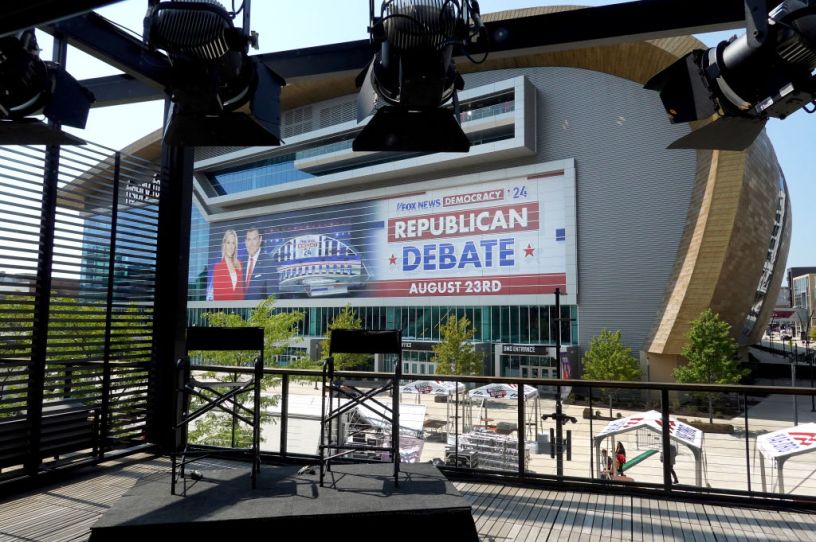 The Fiserv Forum in preparations for the Republican presidential debate on August 22, 2023, in Milwaukee, Wisconsin. (Photo by Scott Olson/Getty Images)
Happy Wednesday! The first Republican presidential debate of the 2024 cycle is tonight in Milwaukee, airing on Fox News and Fox Business at 9 p.m. ET. Semafor's Dave Weigel asks a good question: What "show of hands" question should the GOP candidates get asked tonight? Sound off in the comments.
Up to Speed
RNC Members Reflect on Trump's Absence: 'You Need to Show Up'
MILWAUKEE—With tonight's first GOP presidential debate fast approaching, Republican National Committee Chair Ronna McDaniel is doing her best to bat away questions about why the frontrunner and former President Donald Trump is MIA.
But some RNC members who spoke with The Dispatch are being more candid about their frustrations with Trump's decision to snub one of the most important party-sponsored events of the Republican nominating process.
"Like Ronna, I would prefer that he be here," says Iowa's RNC committeeman Steve Scheffler. "I'm not gonna condemn him. But if you want the votes of Iowans, you need to show up."