Appropriations Turmoil Incoming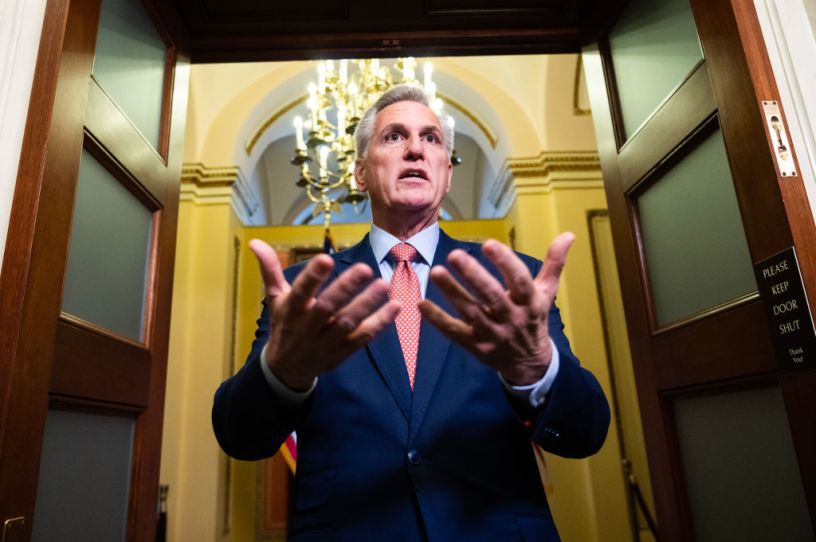 House Speaker Kevin McCarthy conducts a news conference in the U.S. Capitol on Tuesday, July 25, 2023. (Tom Williams/CQ-Roll Call, Inc via Getty Images)
The odds of Congress passing a 2024 budget before September 30—the end of the current fiscal year—look increasingly slim, especially after the Biden administration's new Ukraine funding request.
During a mid-recess conference call for GOP House members Monday, Speaker Kevin McCarthy told lawmakers he anticipates the House and Senate will need to agree on a short-term continuing resolution (CR) to avert a shutdown while negotiations on appropriations bills continue. "I do expect a short-term CR will be needed to finish all the work that we set out to do," McCarthy said, according to the Washington Examiner. He reportedly anticipates the continuing resolution would only last through early December.
But recent developments are likely to make McCarthy's task of wrangling a fractious caucus even more difficult.
Last week, the Biden administration proposed a $40 billion supplemental emergency funding request,$24 billion of which would go toward supporting the Ukrainian war effort, with about $13 billion for defense efforts and $11 billion for humanitarian aid and economic assistance. The White House also wants another $12 billion to bolster the Federal Emergency Management Agency's (FEMA) relief efforts during hurricane season, as well as another $4 billion to address issues related to the southern border—including shelters for migrants and efforts to counter the fentanyl trade. The emergency request would not count toward the annual budget caps agreed to by McCarthy and President Joe Biden during this year's debt ceiling negotiations, making a stopgap measure the most likely vehicle for its passage.