Republicans' New Shutdown Gambit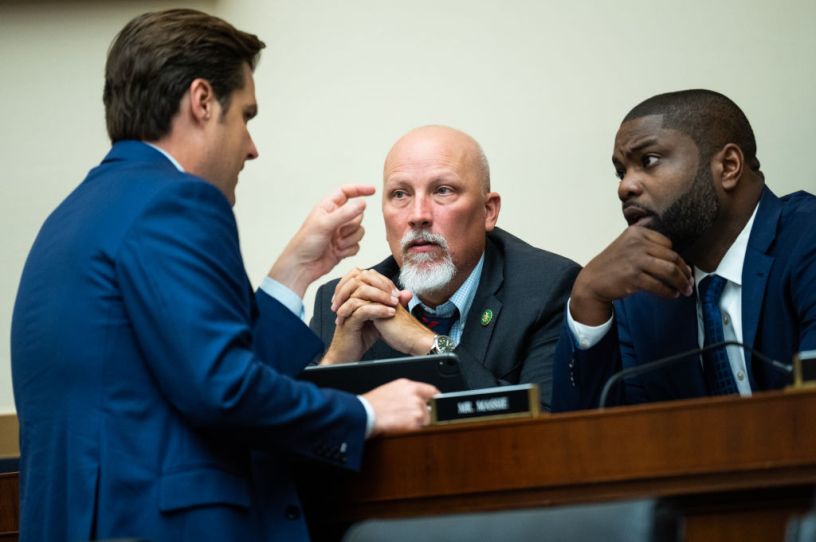 Reps. Matt Gaetz, Chip Roy, and Byron Donalds, attend a House Judiciary Committee hearing on Wednesday, July 12, 2023. (Tom Williams/CQ-Roll Call, Inc via Getty Images)
Happy Monday! If you weren't watching the minute-to-minute news over the weekend, you might be surprised to hear that the government didn't shut down after all. (Don't get too excited; plenty more chances for that lie ahead.)
Up to Speed
After weeks of drama, the House of Representatives voted 335-91 Saturday to fund the government at current spending levels for 45 days. The package, brought forward by House Speaker Kevin McCarthy, differed from the bipartisan bill passed by the Senate in one respect: It did not include additional aid to Ukraine. Nevertheless, the Senate passed the package, which President Joe Biden signed into law Saturday night with minutes to spare before the midnight deadline.
Rep. Matt Gaetz, who together with a small group of hardliners spent the shutdown fight tanking every Republican proposal with an eye toward forcing McCarthy into taking a bipartisan course, announced following the deal that he would attempt to remove McCarthy as speaker this week. Meanwhile, CNN reports that a separate group of Republicans is preparing to push to expel Gaetz himself from Congress, pending the completion of a longstanding Ethics Committee investigation into the Florida congressman.
Robert F. Kennedy Jr., the environmental and anti-vaccine activist who launched an insurgent primary challenge against Joe Biden earlier this year, is expected to announce next week he will instead run as an independent in 2024.
California Gov. Gavin Newsom said over the weekend he would appoint longtime Democratic strategist Laphonza Butler to fill the seat of Sen. Dianne Feinstein, who died last week at age 90. Butler is a close political ally of Vice President Kamala Harris and since 2021 has served as president of EMILY's List, which works to elect pro-choice women to Congress. In that role, Butler has lived in Maryland for the last two years, but Newsom's office told a California reporter Sunday that she remains a California homeowner and will reregister to vote in the state before her swearing-in.
A New York civil trial against Donald Trump begins today, less than a week after a judge ruled that Trump, his sons, and their companies are liable for "persistent and repeated" fraud for allegedly inflating their assets on financial statements over a period of years. The trial could result in financial penalties for the former president and his companies, as well as increased public visibility into their operations.
As former South Carolina Gov. and U.N. Ambassador Nikki Haley inches upward in the polls, Donald Trump has begun focusing fire on her, dubbing her "birdbrain" in social media posts and writing that she "doesn't have the TALENT or TEMPERAMENT to do the job" of president.
Freedom Caucus Infighting Shapes the Spending Debate
Say you're a rock-ribbed conservative representative from a ruby-red district confronted with a fight over government spending. You think the federal government is way, way too large and its spending is completely out of control. How might you choose to behave when two different factions of your own party ask for your help?
Option one: You come to the negotiating table and make it known that your vote to fund the government is gettable, provided you see real cuts to spending and concessions to other conservative priorities.
Option two: You proclaim the whole legislative process an irredeemable sham. Don't your fellow conservatives realize how broken Washington is? How appalling the whole arm-twisting "pass a funding bill or else" process has gotten? If they're gonna pass another way-too-big spending bill, they're gonna do it over your dead body.
You're out of free articles
Create an account to unlock 1 more articles