The House Majority Runs Through New York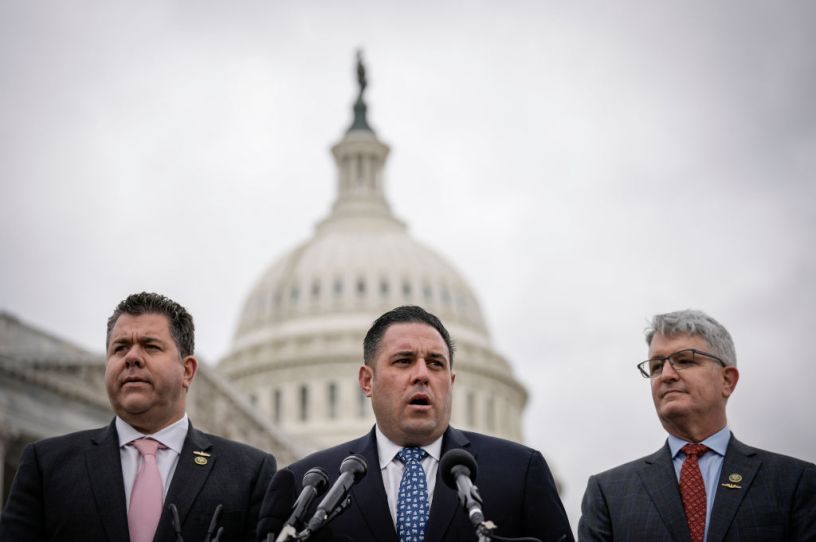 Flanked by Reps. Brandon Williams and Nick Lalota, fellow New York Rep. Anthony D'Esposito speaks outside the U.S. Capitol on March 7. (Photo by Drew Angerer/Getty Images)
Happy Wednesday! Freaked out by AI? Democratic campaign operatives say that's too bad! "The Democratic Party has begun testing the use of artificial intelligence to write first drafts of some fund-raising messages, appeals that often perform better than those written entirely by human beings," the New York Times' Shane Goldmacher reports. "Inside campaigns, artificial intelligence is expected to soon help perform mundane tasks that previously required fleets of interns."
Up to Speed
New York: Where House Majorities Are Won
ISLAND PARK, New York—Sitting in a small coffee shop in his hometown Saturday morning, GOP Rep. Anthony D'Esposito couldn't stop smiling about his surprise victory in New York's 4th Congressional District—a Long Island seat President Joe Biden carried by double digits two years ago.
In D'Esposito's words, "nobody in a million years" predicted a Republican could win his seat. But he did—by 3.5 points.
"There's always that thought that Republicans have to be so careful not to stand for their conservative values because New York is so Democrat, and I just don't see that," D'Esposito said in a wide-ranging interview with The Dispatch last weekend near his campaign headquarters in Island Park, a small village located in the southwest corner of Long Island.
You're out of free articles
Create an account to unlock 1 more articles