Tim Scott Takes His 2024 Shot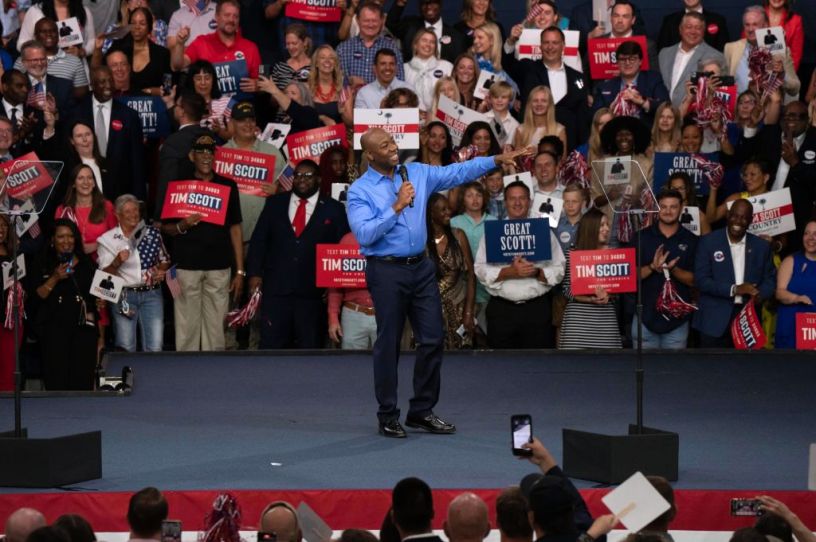 Sen. Tim Scott announcing his run for the 2024 Republican presidential nomination at a campaign event on May 22, 2023 in North Charleston, South Carolina. (Photo by Allison Joyce/Getty Images)
Happy Monday! Rough weekend for Democratic presidential candidate Marianne Williamson, whose campaign manager announced on Twitter over the weekend that he's quitting. (If we were less fastidious reporters, maybe we'd wonder why she didn't foresee this.)
Up to Speed
House Speaker Kevin McCarthy announced on Twitter Sunday that he and President Joe Biden spoke over the phone and will meet Monday to further negotiate the White House's ongoing debt limit standoff with House Republicans, telling Fox News that it seems as though the president "wants to default more than he wants a deal." Biden hit back at McCarthy, calling on Republicans "to move from their extreme positions because much of what they've proposed is simply, quite frankly, unacceptable."
South Carolina Sen. Tim Scott filed paperwork to run for president over the weekend and formally launched his bid with an event in his hometown of North Charleston on Monday. Senate Minority Whip John Thune, a South Dakota Republican, endorsed Scott's presidential campaign ahead of the official launch, joining Sen. Mike Rounds—who also represents South Dakota—in backing the South Carolina senator's bid. More on Scott's presidential announcement in a moment.
Biden and other world leaders pledged continued support to Ukraine during a G-7 meeting summit in Japan, giving hope to Ukrainian President Volodomyr Zelensky during a critical point in the war as Russia claims victory in the eastern city of Bakhmut. (Zelensky has refuted Russia's victory.) "I once more shared and assured President Zelensky, together with all G-7 members and our allies and partners around the world, that we will not waver," Biden said. "Putin will not break our resolve, as he thought he could."
Sen. J.D. Vance is endorsing wealthy businessman Bernie Moreno in the Ohio Republican Senate primary, Breitbart reported Monday. The two were competitors for the Senate nomination last year before Moreno dropped out and Vance, eventually endorsed by former President Donald Trump, was victorious. The winner of the 2024 Republican Senate primary will face Sen. Sherrod Brown, the incumbent Democrat, in the general election.
Sen. Tom Carper, a Delaware Democrat, is retiring after four terms rather than seeking reelection in 2024. Carper, 76, announced his retirement Monday during a news conference. Delaware is a blue state, meaning the Democrats are likely to hold onto Carper's seat. But the senator's decision to step aside could spark a competitive Democratic primary. Rep. Lisa Blunt Rochester, the state's at-large House member, is considered the favorite should she run.
Sen. Tim Scott Announces Presidential Bid
NORTH CHARLESTON, S.C.—Sen. Tim Scott announced his campaign for president Monday from his hometown, presenting himself as a consistent conservative with a positive, uplifting message. "This is the freest and fairest land. Where you and I can go as high as our character, our grit, and our talent will take us," Scott said at the gym at Charleston Southern University, his alma mater. "I bear witness to that. I testify to that."
It will be an uphill bid for the 57-year-old South Carolina Republican, who has financial resources but does not yet have the name recognition of other current and expected candidates in the field. Standing before a crowd of more than 1,000 and in front of a banner featuring his slogan "Faith in America," Scott avoided direct shots at his GOP rivals—including former President Donald Trump—instead aiming his opening critique at President Joe Biden.
"Our nation, our values, and our people are strong, but our president is weak," he said. "America is not a nation in decline. But under Joe Biden, we have become a nation in retreat."