Will Trump Suffer Politically For His Israel Comments?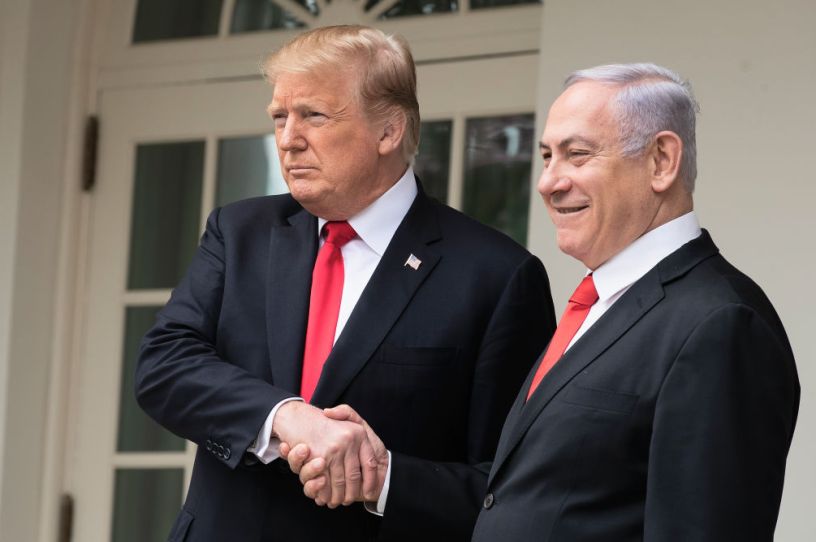 Former President Donald Trump and Prime Minister of Israel Benjamin Netanyahu on March 25, 2019, in Washington. (Photo by Drew Angerer/Getty Images)
Happy Friday! We don't have anything nice to say about Mike's Atlanta Braves losing to the Philadelphia Phillies in last night's playoff series, so we won't say anything at all.
Up to Speed
We were much too optimistic in our Wednesday headline. While the House Republican conference did make a choice for speaker, their designee, Rep. Steve Scalise, announced Thursday he was dropping out of the race. Scalise's in-conference victory over Rep. Jim Jordan of Ohio was closer than expected and reflected a lack of consensus with his colleagues. When it became clear that a large number of GOP members would not back Scalise in a floor vote, the Louisiana Republican ripped the Band-aid off.
So who will get the gavel? Jordan, who had publicly backed Scalise after losing in the conference, threw his hat back in the ring. But it's hard to see how the strident founder of the far-right House Freedom Caucus will have more consensus support than Scalise did. There are rumblings that Rep. Kevin McCarthy of California could try to mount a comeback effort, or even that the speaker pro tem, Rep. Patrick McHenry of North Carolina, could be a plausible consensus alternative. And on Friday, Georgia Rep. Austin Scott filed to run for speaker against Jordan.
What seems far less likely is that some Democrats could join with some Republicans to form a majority coalition to elect a "unity" speaker. Less likely, that is, until it isn't. The frustration from Republican members from all wings of the conference on their inability to coalesce around a speaker might have some members from the center-right looking for an exit strategy with Democratic help. Axios reports those conversations are beginning, but there's no evidence a critical mass of Republicans are ready to give up on their majority rule and keep it in the GOP family.
On Wednesday, the Supreme Court heard final oral arguments in the racial gerrymandering case out of South Carolina, Alexander v. South Carolina Conference of the NAACP. Most analyses suggest the Republican-appointed majority did not sound convinced that two congressional districts in the state were unconstitutional due to racial gerrymandering, as a lower court had found. The new map adopted in 2021 made both a red district along the South Carolina coast more Republican, and a blue, majority-black district more Democratic. The Supreme Court's decision will determine whether South Carolina will need to redraw its congressional map.
Another Trump Controversy, the Same Likely Outcome
Somewhere, in some dimly lit, dusty corner of the Republican Party opposed to Donald Trump, some voter, activist, or elected official imagined the former president finally crossed a political red line when he complimented Hezbollah as "very smart" during a campaign rally and blamed Prime Minister Benjamin Netanyahu for a barbaric terrorist attack that left more than 1,200 Israelis dead.
"He was not prepared," Trump also said, in an interview with Fox News' Brian Kilmeade, referring to Jerusalem's failure to anticipate an October 7 strike in which hundreds of Hamas terrorists invaded southern Israel and deliberately targeted and murdered civilians. "Thousands of people knew about it but they let this slip by."
Florida Gov. Ron DeSantis was first among Trump's competitors for the Republican presidential nomination to issue a stern condemnation. "Terrorists have murdered at least 1,200 Israelis and 22 Americans and are holding more hostage, so it is absurd that anyone, much less someone running for President, would choose now to attack our friend and ally, Israel," he posted on X, formerly Twitter. "As President, I will stand with Israel and treat terrorists like the scum that they are."
You're out of free articles
Create an account to unlock 1 more articles