With Trump Skipping Debates, All Eyes on DeSantis in Milwaukee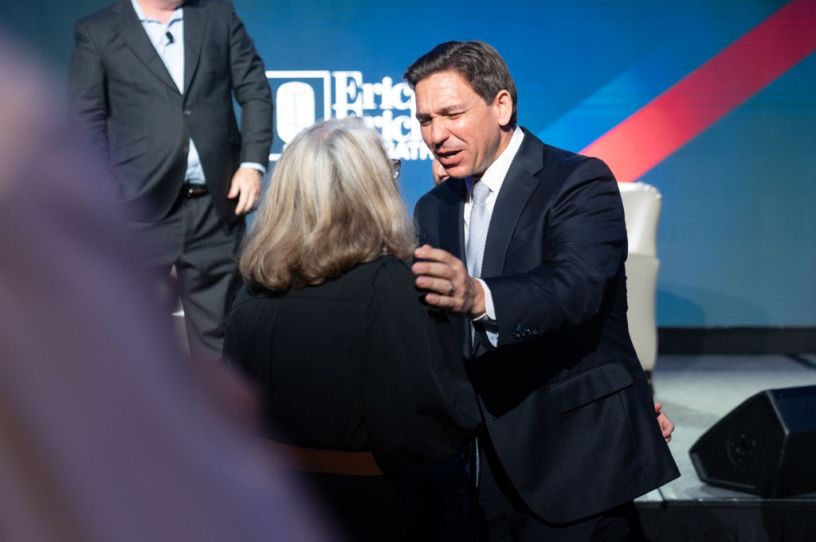 Florida Gov. Ron DeSantis speaks to supporters in Atlanta, Georgia, on August 18, 2023. (Photo by Megan Varner/Getty Images)
Happy Monday! Unless you're Rudy Giuliani, the former New York City mayor and Trump attorney, who hit a new low last week when he was indicted in the Fulton County election case. "His fall from grace is almost complete," Ken Frydman, who served as Giuliani's former campaign press secretary during his 1993 mayoral race, told NBC News. "His only goal should be to die a free man."
Up to Speed
The New York Times has new details on the collapse of Hunter Biden's plea deal with federal prosecutors: "Earlier this year, The Times found, Mr. Weiss appeared willing to forgo any prosecution of Mr. Biden at all, and his office came close to agreeing to end the investigation without requiring a guilty plea on any charges. But the correspondence reveals that his position, relayed through his staff, changed in the spring, around the time a pair of I.R.S. officials on the case accused the Justice Department of hamstringing the investigation. Mr. Weiss suddenly demanded that Mr. Biden plead guilty to committing tax offenses."
Former White House chief of staff Mark Meadows has reportedly told federal prosecutors that he does not recall Donald Trump ever discussing, or ordering, the declassification of documents he took from the White House upon leaving office, ABC News reports. This would appear to contradict the former president's claims that he declassified the materials before he brought them to Mar-a-Lago, his residence and private social club in Palm Beach, Florida.
President Joe Biden will take a brief break today from his summer vacation in Lake Tahoe, California, to travel to Maui to meet with wildfire victims, first responders, and Hawaii officials as search efforts continue.
Former Arkansas Gov. Asa Hutchinson said Sunday he has qualified for the first Republican presidential debate in Milwaukee on Wednesday and that he plans to participate.
Sen. Mitt Romney of Utah told the Wall Street Journal he expects to make a decision about whether he will run for reelection in the fall. His allies are waiting, including investment manager David Nierenberg, who fundraised for the Republican's 2008 and 2012 presidential campaigns and thinks his age and family will likely be the biggest factors dictating his decision. "I do believe that if he were to decide to run again, we would have no problem raising the money to run a great campaign, and I believe that we would win," Nierenberg, who plans to fundraise for Romney again if he runs for reelection, tells The Dispatch. "So it's not a political calculation here. Rather, it's a choice of: 'What do I want to do with the time I have left?'"
President Biden's reelection campaign will launch a $25 million advertising buy Wednesday in seven battleground states, with an emphasis on black and Hispanic media. The spots, highlighting Biden's economic record, are set to air on cable and broadcast television and digital platforms in Arizona, Georgia, Michigan, Nevada, North Carolina, Pennsylvania, and Wisconsin.
In Iowa, presidential contender Vivek Ramaswamy was endorsed by state Treasurer Roby Smith. The Republican is the first statewide elected official to endorse in the Iowa caucuses.
DeSantis Squeezed by Trump's Debate Absence
Ron DeSantis is under increased pressure to produce a breakthrough in Milwaukee Wednesday evening after frontrunner Donald Trump announced he would skip the first Republican presidential debate.
A home run performance, combined with the former president's absence, stands to vault the Florida governor back into contention for the 2024 nomination after a long summer slide. Deliver anything less on a debate stage full of compelling underdogs and second-tier longshots, and DeSantis risks being firmly overtaken as the consensus alternative to Trump heading into the crucial, post-Labor Day phase of the GOP primary campaign.
"DeSantis gets a make or break moment. He is in the middle of a monthslong slide and either he dominates to pull out of it or someone else replaces him as the alternative to Trump," veteran Republican strategist Brad Todd tells The Dispatch. "As for Trump, he misses an opportunity to command the stage. It's probably a mistake and it's certain he will have FOMO next time."