McCarthy's Misery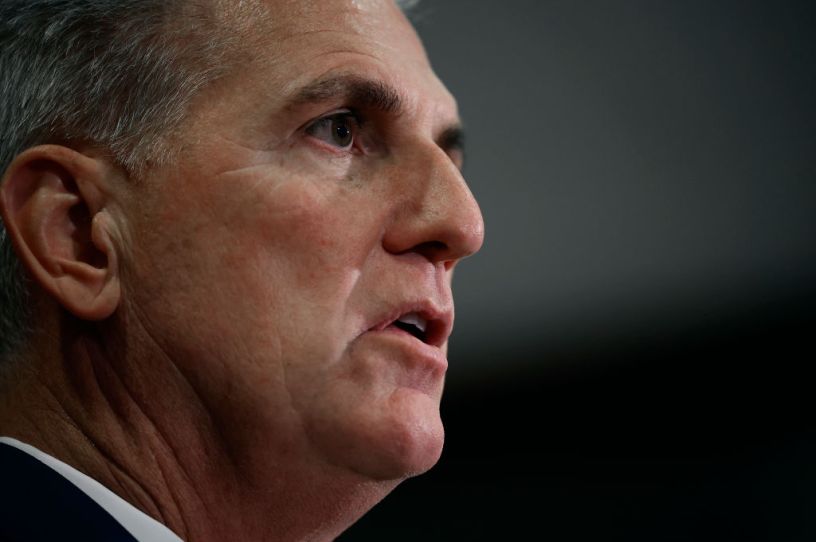 Kevin McCarthy. (Photo by Chip Somodevilla/Getty Images.)
Hey,
Politics is full of dumb clichés: "The only poll that matters is on Election Day." "It will all come down to turnout." "I'm stepping down to spend more time with my family." And relatedly, "I wasn't having an affair, I was just doing constituent service [in that hotel room]."
One of the oldest is "politics makes for strange bedfellows." Before I go on with the rank punditry, let me make a deeper point. There's some profound—and profoundly valuable—wisdom in that line. To listen to many political combatants, the forces of good and evil are frozen in place for all time. Political uniforms can't be shed, for they are tattooed on our souls. But the truth is that if political alliances can shift, that means political categories aren't nearly as permanent or existential as we tell ourselves. Coalitions shift, interests change, parties rise and fall. The future is unwritten, so stop with your apocalyptic caterwauling already.
I can't find the origin of the phrase "politics makes strange bedfellows." But everyone seems to agree that it's a rewording of a line from Shakespeare's The Tempest: "Misery acquaints a man with strange bedfellows."
Get every newsletter and all of The Dispatch. Support quality, fact-based journalism.
Start Your Free Trial
ALREADY A PAID SUBSCRIBER? SIGN IN