The Liberation of the Self-Anointed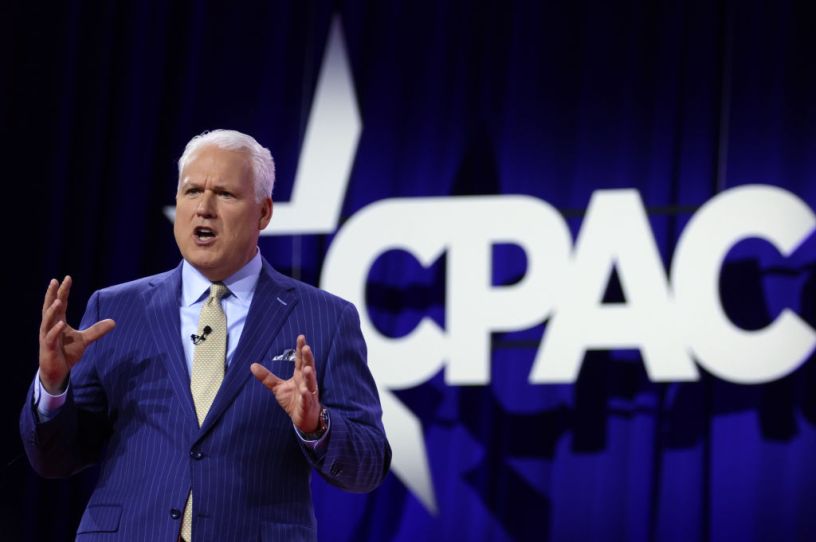 Chairman of the Conservative Political Action Conference Matt Schlapp speaks during the annual conference on March 2, 2023, in National Harbor, Maryland. (Photo by Alex Wong/Getty Images)
Hey,
So, a lot of people didn't like Friday's G-File. I get it. Sometimes I indulge myself too much ("We figured that out from your physique"—the Couch). I'm not saying I'm going to stop indulging my writerly whims. Writing the G-File however I want is in my contract. But when I do decide to run free over the keyboard, I need to figure out a way to reliably tip off the reader that this is going to be one of those "it's not the destination, it's the journey" "news"letters so critics can't say they weren't warned.
Anyway, since you brought up the problem of indulgence, it's worth pointing out that indulgence used to be primarily understood as something granted to you by others. From the etymological dictionary: "mid-14c., in the Church sense, 'a freeing from temporal punishment for sin, remission from punishment for sin that remains due after absolution.'" Most people think of the ultimately corrupt practice of rich aristocrats buying a religious get-out-of-jail card from the church. And while that happened, the history and rationale of indulgences is actually a good deal more complicated. But don't worry, I won't repeat my errors of last week and dive into that rabbit hole.
I do think, however, that there's something interesting to be said about the movement from the era of indulgence to the era of self-indulgence. I recently talked to Princeton's Robert P. George on The Remnant. He argued that we'd gone from the Medieval Age of Faith to the Enlightenment Age of Reason to what we live in now: the Age of Feeling. We see our feelings as the final authority on countless fronts these days.