Russia Signals Retreat from Kherson
Happy Friday! One hundred and four years ago today, in the 11th hour of the 11th day of the 11th month, fighting in the Great War came to an end. 
Quick Hits: Today's Top Stories
Election results—and concessions—continued to roll in on Thursday, though a handful of key races remain undecided. Some updates are included below:
Senate: Control of the Senate remains up in the air, but appears to be trending in the Democrats' direction. In Nevada, the race between incumbent Democratic Sen. Catherine Cortez Masto and Republican challenger Adam Laxalt remains too close to call. Laxalt was leading by less than 1 percentage point as of 3 a.m. ET on Friday, with about 10 percent of the vote still to count. And in Arizona, the race between incumbent Democratic Sen. Mark Kelly and Republican challenger Blake Masters has yet to be called by major network decision desks, but Kelly leads by nearly 6 percentage points with just over 80 percent of the ballots counted. Dave Wasserman, an elections analyst at the Cook Political Report, believes Kelly will squeak out the win.
House: Control of the House also remains up in the air, but Republicans appear likely to recapture the chamber. President Joe Biden conceded as much speaking with reporters last night. In Colorado, as of Friday morning, incumbent GOP Rep. Lauren Boebert has recaptured a narrow lead over Democratic challenger Adam Frisch in the state's 3rd Congressional District. And in Montana, Ryan Zinke, former Trump administration interior secretary, narrowly defeated Democrat Monica Tranel in the state's 1st Congressional District.
Governors: In Arizona, the race between Democratic Secretary of State Katie Hobbs and Republican Kari Lake remains too close to call. In Oregon, Democrat Tina Kotek successfully held off a strong challenge from Republican Christine Drazan, leading her by approximately 4 percentage points as of 3 a.m. ET.
Is Kherson's 'Forever' Occupation Ending?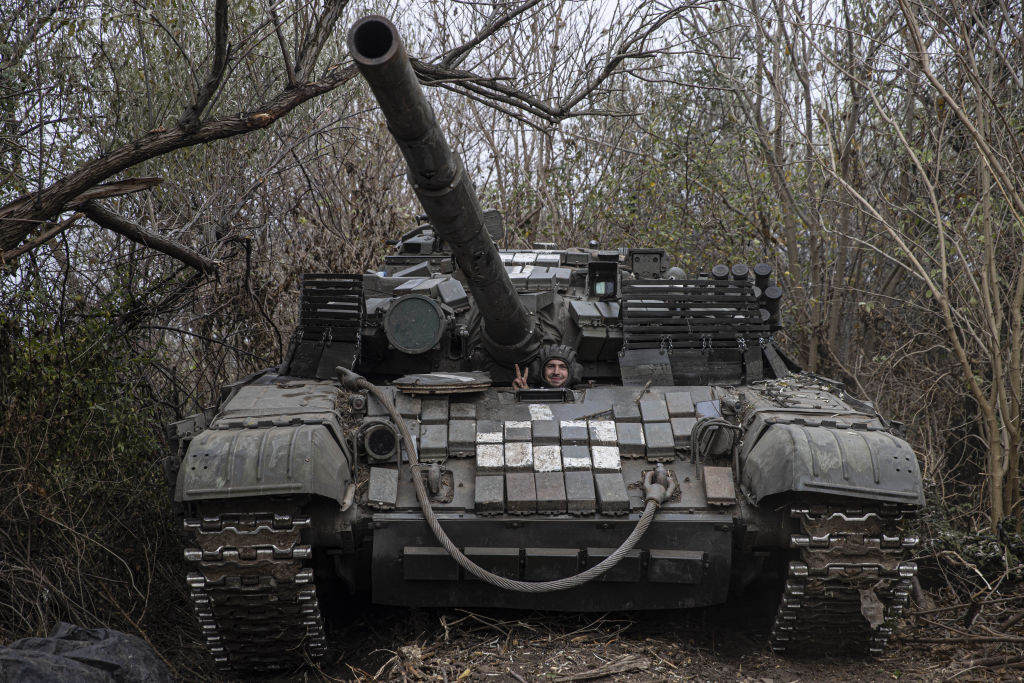 About six weeks ago, Russian President Vladimir Putin said illegally annexed regions of Ukraine, including Kherson, would be part of Russia "forever." But maybe "forever" means different things in different places. For the city of Kherson, it's turning out to mean "a couple of months, tops."
At a televised meeting of top defense officials on Wednesday, Gen. Sergei Surovikin, Russia's top invasion commander, said Russian troop positions on the west bank of the Dnipro River had become untenable. Defense Minister Sergei Shoigu made the writing on the wall official, ordering a Russian withdrawal. "I agree with your conclusions and proposals," Shoigu said, per a translation. "For us, the life and health of Russian servicemen is always a priority."'
Ukrainian officials worry the announcement is a feint, but they've also seen a withdrawal coming. A Ukrainian counteroffensive has been driving toward the city in recent weeks, pummeling vulnerable Russian supply lines to cut off Russian occupiers in the area. A key shipping hub on the Dnipro River's west bank in southern Ukraine, Kherson is the only regional capital Russia has captured since its invasion began more than eight months ago, and its loss will be a blow to morale.